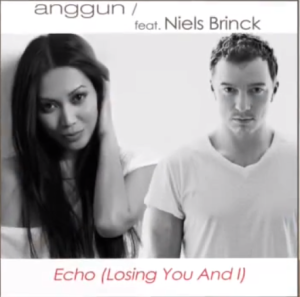 Anggun, the french representative for this year's Eurovision Song Contest, has just recorded a new version of her entry. The song is now titled Echo (Losing You & I) is a duet with Niels Brinck, who represented Denmark in 2009. 
This is the second duet Anggun has released of her song Echo (You & I), with which she will represent France at this year's Eurovision Song Contest. The first one was with Varga Viktor Visszhang and with verses in hungarian it was targeted for that market. 
Anggun has worked together with Niels Brinck before. First time in 2002 for the soundtrack of the Danish dogme film Elsker Dig For Evigt, which came with the internationally title Open Hearts (in other countries it was released with local titles) for which Niels composed the music and then again in 2005 where he produced the song I Wanna Hurt You for Anggun. Niels represented Denmark at the 2009 Eurovision Song Contest ending 13th in the final with the Ronan Keating written song Believe Again.  
The new duet Echo (Losing You & I) will be available very soon on legal download, but it can already be heard below.