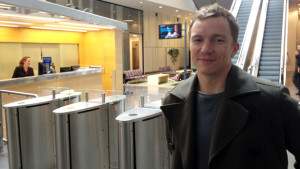 Yesterday the deadline to submit an entry for next year's Danish final ended. A record number of 692 songs were submitted for a chance to represent Denmark in neighbour country Sweden in May – and among them are the Danish 2009 representative Brinck. 
Last year DR received 678 songs for the Danish final. This year a total of 692 songs were handed in to the broadcaster, who will now have to find the 10 songs that will be compete in the 2013 edition of Dansk Melodi Grand Prix.
Over the next few days more artists will probably reveal that they sent in a song as well, but lets take a look at what we know so far:
Brinck, who represented Denmark at the 2009 Eurovision Song Contest with the song Believe Again, is interested in a second attempt. He finished 13th with the song, partly written by Ronan Keating, but it is mentioned that he this year is trying with a song he wrote himself.
Muri & Mario, a Danish duo with Arabic and Italian background submitted three songs. They are not that well known in the public eye, but did create quite a hit with the song Hun Tog Min Guitar. 
Danish fans Frank Holm and Liza Petersen, who is former Danish OGAE president, handed in a number of songs as well.   
A secret panel will now listen to the songs and pick 6 or 7 out of them for the 2013 Dansk Melodi Grand Prix. Aside from those 3 or 4 specially invited songwriters will make fill the rest of the spots in the line up consisting of 10 songs.
The number of songs received for the Dansk Melodi Grand Prix in newer years:
2013: 692 songs
2012: 678 songs
2011: 663 songs
2010: 562 songs
2009: 684 songs
2008: 443 songs
2007: 475 songs
2006: 336 songs
2005: 263 songs
2004: 315 songs
2002: 662 songs 
DR will in not too long also reveal information about which city will host the 2013 Danish final and when. This year's national final was held in Aalborg, North Jutland.