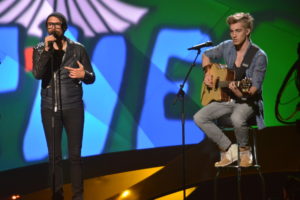 After a reletavely successful tenth placing in the 2013 contest, Hungarian broadcaster have launched the search for ByeAlex's successor. The A Dal format will once again be the method of selecting the singer and song.
Any songwriters wishing to submit an entry have until 1st December. Whoever is chosen to represent Hungary looks set to be one of the first acts chosen for the 2014 contest as the shows will be broadcast at the beginning of the year. There will be two semi-finals and a final on dates which have yet to be confirmed. The hopefuls will have to impress the public and a jury as the voting system will be similar to that used in the Eurovision Song Contest.
A Dal has been deemed a success both in terms of popularity and for its potential to showcase Hungarian talent. Both of the entries selected through it, Compat Disco's 2012 'Sound of Our Hearts' and ByeAlex's 2013 'Kedvesem (Zoohacker Remix)', made it through to the Eurovision Song Contest Final with the latter entry making it to the top ten.
The rules for A Dal are available at the link below – as long as you speak Hungarian! You can also relive Kedvesem by ByeAlex in our 3D video below. If you don't yet have the suitable equipment this can easily be turned off in the player for regular 2D viewing.
You may also want to read: 
Albania set dates for 52nd Festivali i Këngës
Increased interest for representing Denmark at homefield at Eurovision 2014
Lithuania revamps its national selection format
Links