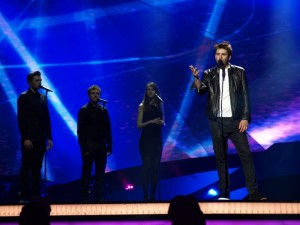 LRT has begun the search for the Lithuanian representative at the 2014 Eurovision Song Contest with a new approach to the format. Artists and songwriters can apply separately and singers who wish to represent their country will have to go through multiple stages throughout the competition.
The Lithuanian broadcaster LRT has started the selection process of the Lithuanian representative for the 2014 Eurovision Song Contest to be held in Copenhagen. The main change compared to previous editions is that this year both songwriters and artists can enter the selection process separately and those who are interested in taking part can apply until November 15th.
The selection process will involve three stages starting on December 14 with a special concert to celebrate the 20th anniversary of the debut of Lithuania at the Eurovision Song Contest. It will feature performances of the twenty acts that will compete in the 2014 Lithuanian national selection who will be on stage along with former Lithuanian Eurovision representatives.
In the second phase, the twenty candidates will perform in five separate pre-selection shows which will take place every Saturday between December 21st and January 18th. In these shows, they won't be singing their potential Eurovision entries but other songs from different genres which have been previously chosen by the jurors. From those five shows, six out of twenty will qualify for the semi-finals.
Once selected the songs, a committee of experts will decide which artist shall perform each song. Then, two semi-finals will take place on January 25th and February 1st where the six hopefuls will present their candidate songs and only the top four will get the ticket to the big final which will be held on the 8th of February.
This year, Andrius Pojavis represented Lithuania at the 2013 Eurovision Song Contest with the song Something achieving a 22nd place in the final. You can watch his performance in our 3D video below. If you do not have a pair of suitable glasses this can easily be turned off in the player below for regular 2D watching.
You might also want to read: