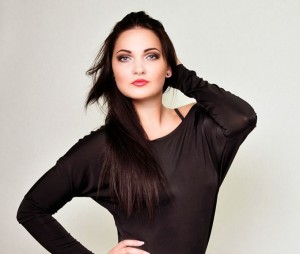 Elvina Milkauskaitė tried to represent Lithuania when she had two songs in their national selection for the 2013 Eurovision Song Contest.  Elvina recently released her brand new song called My Stranger.  It is a lovely and soulful ballad that shows off her smooth and powerful vocals.
Elvina Milkauskaitė participated in the 2013 Lithuanian national selection with a solo song, Closer, and a duet with Mundis called Aš Ilgiuosi Tavęs.  She has also had big success in The Voice Of Lithuania competition where she went to the final and duetted with The Voice Of Holland winner, Ben Saunders.
Elvina has also recorded her version of Safura's 2010 Eurovision song for Azerbaijan, Drip Drop.  She also has another link to Eurovision as she participated in the Lithuanian selections for Junior Eurovision in 2007 and 2008. 
Now Elvina has carefully been plotting her progression in the music business by preparing several new songs.  Her new song is a gentle ballad, My Stranger.  The song is composed by Raigardas Tautkas. Her strong and soulful vocals are particularly strong throughout.
Now we wait to see if Elvina will be involved in future Lithuanian Eurovision selections.  With her versatility and strong vocals it is a strong possibility.
You can listen to Elvina's new song, My Stranger, below and also her version of Drip Drop.

You may also like to read: