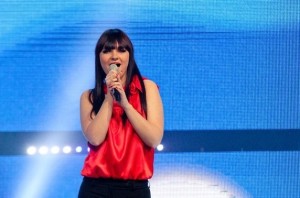 Elvina Milkauskaitė recently had two songs in the Lithuanian Eurovision national selection.  She had a solo song, Closer, and a duet with Mundis, Aš Ilgiuosi Tavęs.  She has also had success at The Voice of Lithuania competition.  Now Elvina's success is set to continue with her next single and new projects.
Elvina Milkauskaitė is rising in popularity in her homeland.  She was selected twice in this year's Lithuanian Eurovision competition.  First she had a mid tempo pop song, Aš Ilgiuosi Tavęs, with Mundis.  Then came her solo song called Closer.  This was a more uptempo and happy song.
Elvina has also had success recently at The Voice Of Lithuania contest where she progressed to the final battles.  She duetted in the finals with The Voice Of Holland winner, Ben Saunders. She sang If You Don't Know Me By Now with Ben, the old Harold Melvin & The Bluenotes classic.  During the competition Elvina also sang popular songs such as I Want To Break Free by Queen and Golden Eye by Tina Turner.
Elvina has also had great success at festivals at home and abroad such as the Grand Prix first prize in Bulgaria and a gold medal in a festival in Egypt.
Now Elvina is looking forward to her next single release very soon and is looking forward to working on exciting new projects.  EuroVisionary will bring you the release and news as soon as it happens.
I am sure we will see Elvina battling again to represent her country at Eurovision.
You can see Elvina's performances of Closer and Aš Ilgiuosi Tavęs below.

You may also like to read: