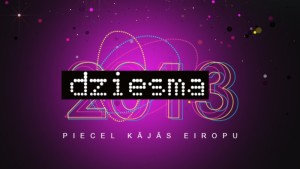 Latvian broadcaster LTV confirmed today the twenty-four acts that have made it to the semi final stages of the Latvian selection, Dziesma 2013. Submissions could be entered up until the end of November. Today's announcement sees some familiar names back for another try.
A total of 122 entries were submitted to LTV when ther dealine closed on the 30th of November and as previously reported, rules for this years selection were amended, allowing foreign composers to take part for the first time in four years in an attempt to revive their ailing fortunes at Eurovision. The Latvian selection Dziesma 2013 is to be divided into two semi finals each featuring twelve acts taking place on the 8th and 9th of Feburary.  All entries can be heard on the offical LTV Dziesma 2013 website. The line up in each respective semi will be as follows:
Semi final 1:
Song 1: Better Than You – Pieneņu Vīns (M: Jurijs Koškins / L: Evilena Protektore)
Song 2: Give Me A Try – Ivo Grīsniņš Grīslis (M & L: Ingars Viļums)
Song 3: Good Woman – Dominic Okolue (M & L: Dominic Okolue)
Song 4: Higher And Higher – Liene Candy (M & L: Christof Straub)
Song 5: I Need A Hero – Samanta Tīna (M : Johnny Sanchez, Michael James Down / L: Marcus Fernell / Beatrice Eriksson)
Song 6: Love – Headline (M & L: Mārcis Rēdmanis / Lauris Busulis)
Song 7: Love Responder – Liene Matveja & Baiba Reine (M & L: Edgars Viļums)
Song 8: Never Let Me Go – Olafs Bergmanis & The Random People (M & L: Jānis Polis)
Song 9: Sad Trumpet – Per (M: Ralfs Eilands / L: Arturas Burke)
Song 10: Tirpini – Fox Lima (M & L: Alise Ketnere)
Song 11: Upside Down – Sabīne Berezina (M & L: Filip Lindfors / Bertel Österberg /Kristoffer Eriksson)
Song 12: When You Are With Me – Antra Stafecka (M & L: Ralph Schillebeeckx / Karen Verresen/ Bruce Smith)
Sem final 2:
Song 1: Cold Heart – Ieva Sutugova (M: Jānis Miltiņš / L: Ieva Sutugova)
Song 2: Fool in Love – Dāvids Kalandija & Dināra (M: Jonas Gladnikoff / Camilla Gottschalck / Christina Schilling / L: Liza Petersen)
Song 3: Here I Am – Rūta Dūduma (M: Patrik Öhlund / L: Madelene Hamberg)
Song 4: Here We Go – Per (M: Ralfs Eilands / L: Arturas Burke)
Song 5: Hey! Hey! – Andris Kivičs (M & L: Andris Kivičs)
Song 6: I Am Who I Am – Marta Ritova (M & L: Marta Ritova)
Song 7: Joey – Mārtiņš Ruskis & 4 Vēji (M & L: Eric Anjou / Peter Svensson)
Song 8: Let The Night Belong To The Lovers – Framest (M & L: Erik Anjou)
Song 9: Now Or Never – Aiwink (M & L: Aleksandrs Rjabčuns)
Song 10: One – Niko (M: Johnny Andersson / Hitmanic / Michael James Down / L: Hanif Sabzevari Hitmanic)
Song 11: Phoenix Fly – Kristīne Šomase (M & L: Mathias Kallenberger / Andréas Berlin / Filip Lindfors / Anton Malmberg Hård af Segerstad)
Song 12: The One – Pieneņu Vīns (M: Jurijs Koškins / L: Evilena Protektore)
Both semi finals will be broadcast live this year, moving away from the studio format favoured in recent years. Each semi will be open to the public and take place at the Concert Hall Palladium with artists including Astro n Out, Trianas Parks, Tumsa and Anmary among others. The grand final will, in accordance with tradition be held in the city of Ventspils, at the Juras Varti theatre house on february the 16th. Acts so far confirmed to perfom in the grand final include last year's Estonian entrant, Ott Lepland, Labveligais Tips and Melo M. Tickets are available for the semi finals, costing LVL 5 through the Bilesu Serviss website.
Among the names confirmed for this year, we see that Pieneņu vīns are back for another try after their 3rd placing in 2011, You Are. Ivo Grīsniņš-Grīslis is again bidding for success, last seen in the 2011 final with Cinderella, where he came 10th. He has three previous attempts to his name. Both Samanta Tīna and Dāvids Kalandija are back after their second placed duet last year, I Want You Back. With an entry in each semi final, PeR is hoping to improve his chances after his fifth placed Superfly last year. Other names that have previously participated in the Latvian selections include Liene Candy, Rūta Dūduma and Sabīne Berezina.
You might also like to read: