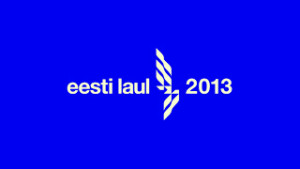 As reported mere days ago here on Eurovisionary, Estonian broadcaster ERR had received 157 submissions for the national selection Eesti Laul 2013. A jury has been busy beavering away over the past few days and yesterday evening the full line up for next year's competition was announced, with many familiar names promising us a diverse selection.
From the entries mentioned below, there are quite a few names that will surely be familiar to fans. Back for another try is the super team of Alar Kotkas, Pearu Paulus, Ilmar Laisaar and Jana Hallas who have previously brought Estonia great success with entries such as Once In A Lifetime (2000), Runaway (2002) and the slightly less succesful but equally as catchy Through My Window (2006). Sven Lõhmus, the man behind entries such as Let's Get Loud (2005), Rändajad (2009) and Rockerfeller Street (2011) is also back for another try and should surely be one to watch with two of his three entries making it to their respective final. Rolf Roosalu is hoping that 2013 will finally be his year, back four an impressive sixth time, showing remarkable stamina.
Of the artists taking part, a number have the same origins as last year's entrant, Ott Lepland, in having won the Estonian Idol show, Eesti otsib superstaari. Birgit Õigemeel and Liis Lemsalu are taking part this time, with Õigemeel back for a second consecutive year. She is a major name in her native Estonia, having attempted to represent Estonia in both 2008 and 2012, as well as her single Kas tead, mida tähendab being chosen as runner up for Estonian single of the year in 2007. Other familiar names to be found in the line up include no fewer than three entrants from Eesti Laul 2012, namely Liis Lemsalu, Teele Viira and Tenfold Rabbit, all of whom made it through to the final.
The full line up for Eesti Laul 2013 is as follows Song Title – Artist (Composer) :
Balance Of Water & Stone – Tenfold Rabbit (Andres Kõpper/Meelik Samel/Martin Petermann)
Dance – Facelift Deer (Rasmus Rändvee/Paal Piller/Karl Kallas)
Enough – Elina Born (Stig Rästa/Fred Krieger)
Et uus saaks alguse – Birgit Õigemeel (Mihkel Mattisen/Silvia Soro)
Follow Me – Rosanna Lints (Rolf Roosalu/Kristel Aaslaid/Mattias Hapsal)
Lune Surnoise – Neogeen (Raido Lilleberg/Kalle Raudmets/Mare Sabolotny)
Maybe – Marie Vaigla (Raul Vaigla/Marie Vaigla)
Meiecundimees üks Korsakov läks eile Lätti – Winny Puhh (Silver Lepaste/Indrek Vaheoja)
Meil on aega veel – Põhja-Tallinn (Jaanus Saks/Mark Eric Kammiste/Alvar-Risto Vürst)
Miljoni roosiga kaardi sul saadan – Tauri (Peeter Kaljuste/Marek Sadam)
Missing Light – Flank (Tõnn Tobreluts/Tauno Tamm/Keio Münti)
Moving To Mmm – Marilyn Jurman (Marilyn Jurman/Karl Kanter)
Päästke noored hinged – Grete Paia (Grete Paia/Sven Lõhmus)
Ring The Alarm – Teele & Tuuli & Ula (Priit Uustulnd/Teele Viira)
Suuda öelda ei – Kõrsikud (Andrus Albrecht/Alari Piispea/Lauri Liivak/Jaan Pehk)
Taevas valgeks läeb – Sarah (Sirli Hiius/Mathura)
The Missing Thing – Anisa Vänikver (Alar Kotkas/Pearu Paulus/Ilmar Laisaar/Jana Hallas)
Uhhuu – Liis Lemsalu (Rene Puura/Liis Lemsalu)
With U – Rolf Roosalu (Rolf Roosalu)
Üle vee – Liisi Koikson & Söörömöö (Immi)
This will be the fifth year with the new, revamped concept of Eesti Laul, which has by and large restored Estonia's success Eurovision, with three of four acts making it through to the final since 2009, and two of those acts, Urban Symphony with Rändajad and Ott Lepland with Kuula both making the top ten, reaching sixth place.
You may also want to read: