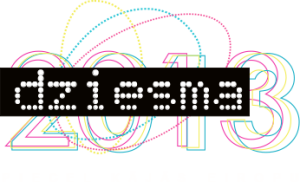 Latvian broadcaster LTV made public both song titles and composers of all qualifying entries for next year's national selection this afternoon, with some familiar names making an appearance and raising expectations.
The deadline for submissions to be made to LTV closed on the 30th of November, with LTV revealing mere days ago that a total of 122 entries had been received. A total of 24 songs made the final grade to take their places in the semi final heats which will take place o the 8th and 9th of February.
Names of all acts are yet to be revealed. As mentioned in an earlier article, LTV impemented a change to this year's rules, allowing foreign composers to take part once more, the first time since 2008. Judging by the composers' names, this change has been taken advantage of by many with a massive influx of foreign names, from Sweden, Austria, Nigeria, Lithuania, Denmark, the UK and Belgium. The following songs have qualified to the next round of the Latvian selection, which has undergone something of a transformation, ditching the Eirodziesma title and simply bearing the name Dziesma 2013 (names of composers in brackets):
Give Me a Try (Ingars Viļums)
When You Are With Me (Raph Schillebeeckx/Karen Verresen/Bruce Smith)
Tirpini (Alise Ketnere)
Here I am (Patrik Öhlund/Madelene Hamberg)
I Need a Hero (Johnny Andersson/Michael James Down/Marcus Frenell/Beatrice Eriksson)
Fool in Love (Jonas Gladnikoff/Camilla Gottschalck/Christina Schilling/Liza Petersen)
Hey Hey! (Andris Kivičs)
The One (Jurijs Koškins/Evilena Protektore)
Better Than You (Jurijs Koškins/Evilena Protektore)
Here We Go (Ralfs Eilands/Arturas Burke)
Sad Trumpet (Ralfs Eilands/Arturas Burke)
Now Or Never (Aleksandrs Rjabčuns)
Cold Heart (Jānis Miltiņš/Ieva Sutugova)
Good Woman (Dominic Okolue)
Higher and Higher (Christof Straub)
One (Johnny Andersson/Hitmanic/Michael James Down/Hanif Sabzevari)
Love Responder (Edgars Viļums)
Never Let Me Go (Jānis Polis)
Let the Night Belong to the Lovers (Erik Anjou)
Joey (Eric Anjou/Peter Svensson)
Phoenix Fly (Mathias Kallenberger/Andréas Berlin/Filip Lindfors/Anton Malmberg Hård af Segerstad)
Love (Lauris Busulis/Mārcis Rēdmanis)
I Am Who I Am (Marta Ritova)
Upside Down (Filip Lindfors/Bertel Österberg/Kristoffer Eriksson)
Some fans will no doubt recognize a few names among those of the composers. Jonas Gladnikoff is without doubt the most prolific, having had penned both Et Cetera and It's For You, the Irish entries from 2009 and 2010. He has also had entries in the Albanian, Bulgarian, Maltese, Spanish, Romanian and Portuguese national selections and will for the first time have an entry in the Icelandic Söngvakeppni Sjónvarpsins. He also penned Hera Björk's second placed Someday from the 2009 Danish final.
Other familiar names are those of Marcus Frenell, who has had two entries in the Icelandic finals; Jóhanna's Nótt from 2011 and Regina Ósk's entry this year, Hjartað Brennur. Christina Schilling is another composer with many merits to her name, having previously had entries in the Spanish, Lithuanian and Slovenian finals, and who also co-wrote Someday and Et Cetera. Michael James Down is another name that some will udoubtedly recognize – he has previously had entries enter in the Maltese and Romanian finals and has also succeeded in getting entries into this year's Icelandic selection. 
All entries can be heard on the LTV website. 
You may also want to read: