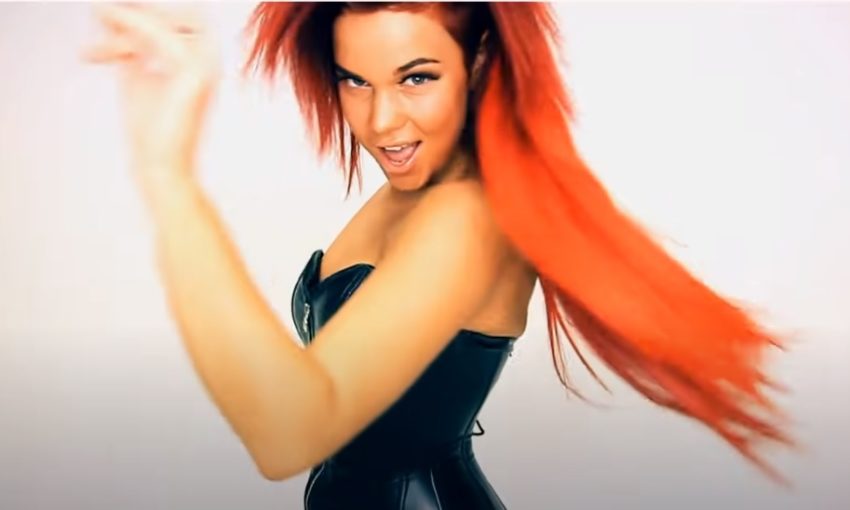 Samanta Tīna represented Latvia at the 2021 Eurovision Song Contest. The very colourful, lovely and lively Latvian woman has more to offer. This time, we look at her 2012 dance hit 'Esi Man Klāt', a duet with Rassel.
One of the strongest vocals that Eurovision came up with, Samanta Tīna, had the honour to be chosen to represent her country in the Eurovision Song Contest in 2020 with Still Breathing. As the contest was cancelled due to Covid-19 pandemics, she couldn't sing Still Breathing on stage. However, she had the privilege to grace the Eurovision stage in Rotterdam in 2021 with her The Moon is Rising.
Her two uptempo songs with feminist messages for Eurovision differs in style with her 2012 duet Esi Man Klāt which is a typical club style song made for dancing. Samanta greets us with her very different look, her punk style redhead in the video of Esi Man Klāt, although we recognise her as a blonde bombshell.
Esi Man Klāt – opinions from fans
In order to find out what Eurovision fans think of this song from Samanta Tīna, we asked our Eurovision Fan Panel. It includes team members as well as fans from all over the world.
🇬🇧 Michael O. – Not so much of Samanta on this song, but another song to show how diverse she is. This is a good song to feature on a dance compilation, not as the opening track but certainly a good filler in the middle.
🇩🇰 Charlotte J. – This is a style that fit Tina so much better than her 2021 Eurovision entry. Her voice is good, it matches well with Rassel and the up-tempo dance pop song is actually quite good. It's catchy, it makes you want to get up and dance, and you can sing along to it. Quite good a song and something, I wish Latvia had sent instead. The Latvian language is no hurdle. I am never bothered by it at all. I just enjoy the song.
🇩🇪 Andrew G. – First off I love Samantha. Her vocals are on point but with the rapper the track gets so mixed up. This track is from 2012 but gives me 90s vibes. It gets boring after a minute. Repeating over and over. This song would be played early in the night at a club due to the fact it's not the floor filler it should or could be. Sorry Samantha.
🇨🇿 Josef S. – I love Samanta Tīna and especially this style she did around 2012 and 2013. Even today, it may sound already a little retro. In this song, I would not need the guy, Samanta would be enough for me. I can imagine myself listening more often to this one. 👍
🇳🇱 🇩🇰 Wouter V. – This is so far from the kind of music I normally listen to, that I don't feel I can fairly judge it. But I do know that I prefer this over Tina's Eurovision entry.
🇮🇪 John D. – This is far better than the Latvian Eurovision entry this year and probably would have qualified for the final. The sax in the background reminds me of Moldova's entry a few years ago and the rap works better than San Marino's effort this year. I hope Latvia sends more songs in its own language.
🇮🇹 🇬🇧 Maurizio V. – I did enjoy Samanta Tīna's entries for Eurovision 2020 and 2021, but this song is not for me. It's very reminiscent of 2000s clubs, a bit monotone for me. Samanta has an incredible voice, and she belts out fantastic high notes. Love her, but not this song so much.
🇹🇷 Gunec G. – A very different style from Samanta Tīna than that we know her for. I love the wide range of her voice. Esi Man Klāt  is a typical club tune and I do like it, it's fun to listen to. Actually it's more easy to listen to than her two Eurovision songs. And I actually like her punkish style which gives me Cyndi Lauper vibes from the 80s.
Enjoy Samanta Tīna's Esi Man Klāt in the embedded video. Below the video, you can read more about her.
Samanta Tīna

– a mini biography
Samanta Poļakova aka Samanta Tīna was born on the 31st of March 1989 in Tukums Latvia. She says she has Russian, German, Belarusian and Turkish roots. Her career is full of successful talent shows and festivals.
Tīna has previously tried to represent her country Latvia in Eurovision in 2012, 2013, 2014, 2016, 2019 and 2020. In 2013, she also showed up in the Lithuanian National Final. She won the Latvian National final in 2020 with her song Still Breathing and had the opportunity to represent Latvia in the Eurovision Song Contest. However, the contest was cancelled because of the pandemic thus she couldn't get on the Eurovision stage.
In 2021, the Latvian broadcaster selected her again, this time internally, to represent Latvia in the Eurovision Song Contest with The Moon Is Rising. Unfortunately, in Rotterdam, in the second semi-final, she only received 14 points, placed 17th and didn't make it to the final. Samanta Tīna has released many singles from 2012 to date.