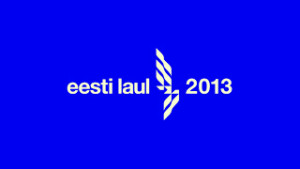 With Ott Lepland and his emotive performance of Kuula managing to equal Estonia's best placing since 2009, interest for the participating in the show has remained stable, with broadcaster ERR receiving 157 entries, only 2 entries fewer than last year.
The small Baltic state of Estonia was a formidable force to be reckoned with from the mid nineties to the early noughties, notching up a string of top ten positions. Ott Lepland managed a very credible sixth place in Baku this year, a result that equalled their position from 2009 with Urban Symphony and Rändajad, and aside from that, we'd have to go all the way back to 2002 and Sahlene with Runaway to find Estonia in the top ten. With renewed success, and such an enviable track record at the contest, one would have thought that there would have been a stampede of composers, vying for the chance to defend Estonian honour in Malmö next year, but success doesn't seem to have translated into raised interest for participation.
Let's just hope that like last year, it's a case it's quality and not quantity for next year's Eesti Laul contest. Over the course of the next few days, a jury will review all of the submitted entries , reducing these to twenty, with the names and titles of the successful applicants to be announed this Thursday at 18:00 CET.
The twenty competitiors will be divided into two groups, performing in 2 semi finals to be held on the 16th and 23rd of February. A combination of both televoting and and jury voting will be used, selecting five entries from each semi final to qualify for the grand final,which will be held at the Nokia Concert Hall in Tallinn on the 2nd of March. As with last year, the same combination of voting will be used in the first part of the final, with the top two songs going on to a superfinal, where the winner will be decided solely by televoting.
You may also want to read: