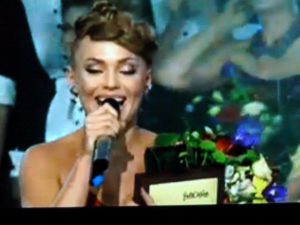 As the first country Belarus tonight held its national final to select the entry that will, probably, represent them at the 2013 Eurovision Song Contest. Among 10 songs Alena Lanskaya won and is, as things stand right now, ready for Malmö. Tonight show featured performances from several former Eurovision participants.
Previous experience have shown that in Belarus you can't really rely too much on the result of the national final. In 2005 Angelica Agurbash won with the song Boys And Girls, which never actually made it to the Eurovision Song Contest as it was later replaced with Love Me Tonight. In 2010 it was then 3+2 who won the national selection with the song Far Away, but few days before EBU's submission deadline expired that song was thrown away and instead they performed Butterflies at the Eurovision Song Contest.
Again in 2011 another change took place – even if it was internally selected! Anastasiya Vinnikova was selected to sing the song I Am Belarusian. Apparently in order not to offend anyone the song was changed to I Love Belarus.
In 2012 it went even worse as Alena Lanskaya won the national final, but ten days later was disqualified. The explanation for why says that the president heard rumours about the composer having bought top points from the jury. With those rumours the president ordered an investigation, which apparently proved it to be correct. The song was disqualified and instead runner up Litesound got the Eurovision ticket to Baku, Azerbaijan with the song We Are The Heroes.
Alena Lanskaya has however not given up on representing her country at the Eurovision Song Contest, as she was among the ten participants in tonight's Belarusian national final, Eurofest – and as she won again we can only hope that she time makes it to Malmö. 
The songs:
1. Vitaly Voronko – I Wonder How You
We start out with a happy song, which can't help bringing you in a good mood. It might be simple and kitch, but at the same time also quite charming, unless his voice and English pronunciation becomes too annoying near the end. Everyone on stage shows of a lot of energy and happiness and the leadsinger is wearing a harmonica.  
2. Max Lawrence – I Love Your Charming Eyes
The next song is something completely different. This ballad with clear ethnics elements starts out quite well, but unfortunately quite quickly gets into a repeat mood, where you wonder if nothing else will happen. Just as you are about to give up on it, it however manage to build up a little bit. He is accompaigned on stage by female dancers and it actually looks quite fine.
3. Alena Lanskaya – Rhythm Of Love
Here we have a song with dance elements – with a bit of sounds stolen from Rednex here and there. She appears to have a lot of energy on stage, but unfortunately the song is just too much a mess. It does not look like a repeat victory for Alena. She starts out laying down on stage – just as her dancers are. As she gets up we see that she standing on a podium, which the male dancers then lit her down from like we have seen from several Eurovision Song Contest performance f.ex from Cyprus last year.
4. Yankey – Letter To Mother
This is interesting, it starts out as a ballad, and you are wondering if this is a Christmas carol, but then it builds up into being more a rock ballad. It is beautiful and could absolutely be a great contribution to the Eurovision Song Contest. During the performance plenty of papers are thrown around. A windmachine is used to make it extra dramatic and near the end a red band is put around the arm of the lead singer. 
5. Beaver Band – Incredible Girl
We continue with folk music sung by a singer with the most annoying voice you could ever imagine – which almost makes me wish Rambo Amadeus back! If Belarus wants to be considered a joke in Malmö then this is the song to go for – if not, this needs to be kept far away from the Eurovision Song Contest! They do deliver a lot of energy on stage and I am sure they have fun doing this, it just doesn't do anything good for me.  
6. Daria – Catch Me Again
Another happy song that starts out quite similar to Kirsten and Søren's Danish '80's entries, but quickly turns out to be jazz. She has a very sweet voice and the song makes you get up and dance a bit around. Absolutely a lovely song that would also suit the Eurovision Song Contest, although in the past this type of songs have proven not to do that well. Daria and her 5 dancers delivers a good performance of this song, which for sure will make most people smile.
7. Uzari – Secret
Maybe it is just be, but the first few second of this also makes me think of Christmas. The song itself however immediately gets me away from that thought. At parts this is trying to make it into a rock ballad, but never manage and later it adds DJ elements, just to confuse you even more.  On stage he has four male dancers all dressed in black and wearing masks. A female backing singer is standing in the back of the stage. Steaming pyrotechnics and shaking images is used to create a dramatic, but also fuzzy performance.
8. Alexei Gross – One Way Love
He might have a little resemblance to Alexander Rybak in his look, but the song is nothing like Fairytale. It is a nice enough pop song, a bit boyband style, and it is hard to dislike it. Unfortunately it might also be hard to remember it afterwards. On stage he has a female dancers and three backing singers. Two rows of three chairs each are used for the dancing in the middle of the stage. Where others are not engaging with their dancers it is different for this peformance where Alexei really interacts with the dancers.  
9. Nuteki Band – Save Me
With elements from dance, techno, rock, pop and rap it is hard to put a genre over this – and even harder to make up your mind about it. It does have a lot going for it, but also nearly as much going against it. Just as I was tipping a bit to the positive side a big instrumental part however completely destroys it. Though it does get back to the things I really like the overall impression is not that good. A silver dressed figure on stelts comes on stage and lift one of the band singers up and tie him under the cealing! 
10. Satsura – Get Out Of My Way
Did Belarus save the best for last? I am afraid they didn't. Once again it does have something that I really like, but it doesn't quite manage to convince me that this should be promoted to compete at the Eurovision Song Contest. It is a song in the best half and maybe even a top 3 though, but if you ask me this is not the winner. The leadsinger might appeal to quite some gay men and maybe even a few women with his naked muscular overbody with chains over it, if you are into that look. On stage he has two make dancers and two female backing singers, who joins the middle of the stage with the rest near the end. 
The show:
The show started at 20:00 CET and lasted less than two hours. It started with a hip hop / break dancing show consisting of young people of both sex. The show had two hosts, again one of each sex. She in a long blue dress, he in a black suit and butterfly. The trophy was held up and then it was time to get this national final started. A short video introduced each act and it all went rather fast and smooth.
After each performance the hosts informed about the voting procedure and then kicked off for 10 minutes of voting vindow before a re cap of all the participating songs was shown. And as one wasn't enough we get yet another re cap after only a minute of talk from the hosts. Once the ten minutes had passed the hosts counted down to the end of the voting. 
Before the jury was too announce their points we were treated with a performance of Alexandra & Konstantin singing their 2004 Eurovision Song Contest entry My Galileo, which was also the debut entry from Belarus. Back then it was extremely popular among the fans despite not qualifying for the final and tonight was no exception as they recieved a big applauce from the audience. After that performance they gave yet another example of their talent.
On stage came also another local singer performing a nice ballad while we were waiting for the result, but before it came to that Koldun took the stage singing his 2007 entry Work Your Magic. Tonight he delivered yet another great performance, which shows why this is Belarus' best Eurovision result. Also he performed another song, this time a more quiet one and not in English. 
The result:
As usual the winner of the Belarusian national final was chosen in a 50/50 combination of jury and televoting. During the voting some of the televoters votes was shown on the screen putting song nr. 3 in a clear favourite position with song nr. 9 in a second place, but far far behind Alena. With her clearly getting the top points from the TV viewers it would be interesting to see if the jury were to change that, but they didn't.  
The full result can be seen in the image below:
Belarus at the Eurovision Song Contest: 
Ever since its debut in 2004 Belarus has been participating at the Eurovision Song Contest, but with quite mixed results. Only twice have they managed to reach the final; in 2007 where Koldun worked his magic and ended 6th and again in 2012 where 3+2 reached the final, but came second to last with the song Butterflies.
You might also want to read: 
t.A.t.U re-issues 200 Km/H In The Wrong Lane with an unreleased song and special remixes
Anastasiya wins 2012 Junior Eurovision for Ukraine
Below you can see Alena Lanskaya's performance from tonights national final: