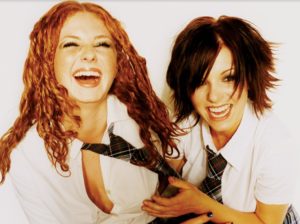 t.A.t.U's acclaimed debut album will be getting a re-release this November in honor of its 10th anniversary, which contains a never before released song from the 2002 recording sessions. Is there any chance that Julia and Lena put aside old grudges and decide to work together to promote the project?
It has been almost ten years since the unforgettable Russian duo consisting of Julia Volkova and Lena Katina, known in the entire world as t.A.t.U, represented their country at the Eurovision Song Contest with Ne Ver, Ne Boisia and became number one on the charts worldwide.
In 2011 their fans received the unfortunate news of the dissolution of the group. Both of them started a solo career, but nothing was as before. Now we have some good news for t.A.t.U fans in as much as the well-known Russian duo just released a special album.
To celebrate the 10th anniversary since the release of the album that led them to worldwide success with hits such as All The Things She Said or Not Gonna Get Us, they have decided to re-release this album, 200 Km/H In The Wrong Lane, in a special edition. In addition to the songs that were already in this emblematic album of the pop of the 2000s, it includes new remixes and we will also find a previously unheard track entitled A Simple Motion, the long-awaited English language version of Prostye Dvizheniya which has become a ballad with a solemn piano melody.
The track list is as follow:
01. A Simple Motion
02. Not Gonna Get Us
03. All The Things She Said
04. Show Me Love
05. 30 Minutes
06. How Soon Is Now?
07. Clowns (Can You See Me Now?)
08. Malchik Gay
09. Stars
10. Ya Soshla S Uma
11. Nas Ne Dogonyat
12. Show Me Love (Extended Version)
13. 30 Minutes (Remix)
14. All The Things She Said (Fernando Garibay Remix)
15. Show me Love (Fabricated Remix)
You can listen to t.A.t.U singing A Simple Motion in the video below where you will also find the link to purchase the album: