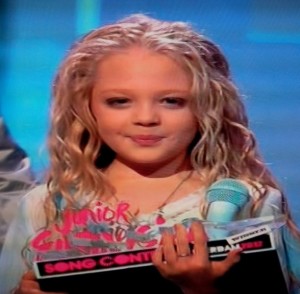 Ukraine have tonight won the 2012 Junior Eurovision Song Contest. Anastasiya Petryk gave a memorable performance of the song, Nebo. In Amsterdam. She won over the voters with strong vocals and strong stage presence.
The show opens with an introduction to all twelve acts accompanied by dancing and drumming and performance to Euphoria.
The songs: 
1.Belarus: A More-More Egor Zheshko –
Egor is joined on stage by four dancers (two girls and two boys). An old fashioned sound and performance. Quite a boring start to the show.
2.Sweden: Mitt Mod Lova Sönnerbo –
Lova delivers a very confident stage performance. A classy ballad. She is joined on stage by two female backing singers.
3.Azerbaijan: Girls & Boys (Dünya Sənindir) Omar and Suada –
The first time at Junior Eurovision for Azerbaijan. A few changes to the backing track from the preview clip. Omar and Suada are joined on stage by two boys and three girls. A lively and catchy song.
4.Belgium: Abracadabra  Fabian –
Fabian is dressed all in red. He has two girl dancers on stage and a male drummer. We get a little magic on stage with the girls changing in to red and also and playing instruments. Confident show.
5.Russia: Sensation Lerika –
One of the big favourites. Lerika rocks the stage with a great vocal performance. A catchy dance song. She is joined by four girl dancers. A 'sensational' show.
6.Israel: Let The Music Win  Kids.il –
A charming and classy act from Israel. Melodic and great vocals from the girls dressed in pink. The boy in black sings some operatic parts and maybe does not sound quite right.
7.Albania: Kam Një Këngë Vetëm Për Ju su Igzidora Gjeta –
Another debut country. Igzidora is alone on stage. She is wearing a black dress. She gives a very confident performance to this upbeat song about 100 years of Albanian independence.
8.Armenia: Sweetie Baby  Compass Band –
The boys are all wearing black suits with shirts and ties.  They are playing guitars and there is one drummer. The rock type ballad song is a little boring in my opinion.
9.Ukraine: Nebo Anastasiya Petryk –
Anastasiya has amazing stage presence. She has a really strong voice. A dramatic song. Alone on stage in white dress. Big song.
10.Georgia: Funky Lemonade  The FUNkids –
A fun and quirky show from the FUNkids. Good vocals and stage show. The song is cool and jazzy and funky. Nice show.
11.Moldova: Toate For Vi  Denis Midone – 
Denis is joined on stage by two boys and three girls. A catchy song. Nice performance. 

12.The Netherlands: Tik Tak Tik Femke –
The audience go crazy for the home team. Femke is joined by four girl dancers. She is wearing a gold jacket and pink shorts and top. A catchy song with confident vocals.
The show: 
All the acts then take to the stage to perform a special song for the event called We Can Be Heroes.
The 2009 winning act from the Netherlands, Ralf Mackenbach, sings in the interval. He performs a new song. He is joined on stage by a plethora of girl dancers. 
Next in the interval is one of the presenters, Kim-Lian van der Meij, performing the official 2012 Junior Eurovsion theme, Break The Ice. 
The result: 
The voting is a combination of expert jury and televoting. 
Ukraine took the honours with a win for Anastasiya Petryk and Nebo. 
Georgia were second and Armenia in third place.
You can see Anastasiya's performance below.