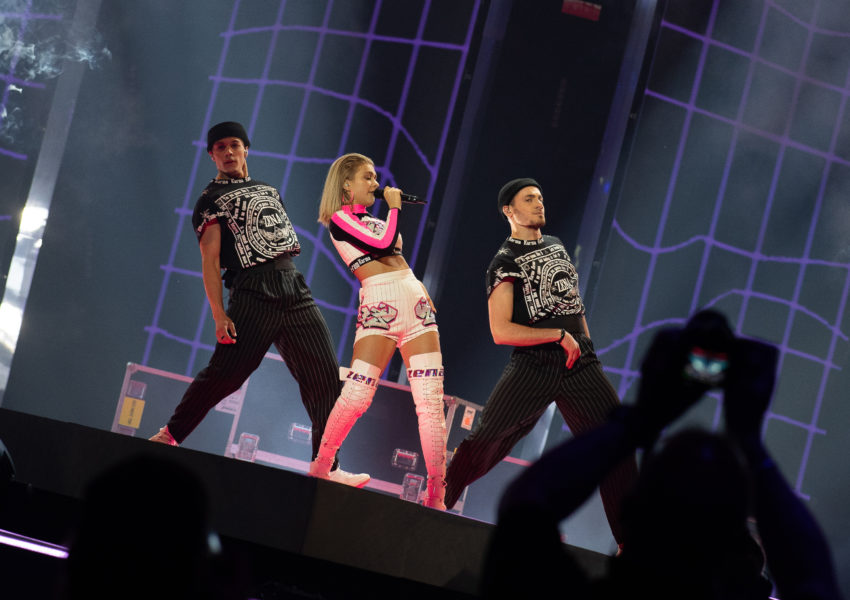 In 2019, Belarus were about to enter the Eurovision Song Contest for the sixteenth time. A National Final was held to find their entry. The winner was ZENA with the song, Like It.
The National State Television and Radio Company of the Republic of Belarus (BTRC) announced that a final would be held on 7 March 2019, having auditioned several candidates beforehand.
The final was called, Nationalny Otbor and ZENA performed second out of ten. In an unusual move the judges scores were announced right after each performance. ZENA scored 69 out of 70 points, making it practically impossible for any following act to beat her.
Sure enough ZENA headed to Tel Aviv, where on May 14 2019 she placed 10th in semi final one. On May 18 2019 she performed 19th in the final, scoring 31 points and finishing in 24th place.
Like It – opinions from fans
In order to find out what Eurovision fans today think of this entry from Belarus 2019, we asked our Eurovision Fan Panel. It includes team members as well as fans from all over the world.
Michael O. – Like It? I love it, this was an amazing pop entry from Belarus. Due to lack of a high profile I'm convinced this is why this song only finished 24th. It is pop perfection and Madonna wouid love to have had a song like this in her heyday. Belarus's best entry ever. Queen of Pop.
Josef S. – Personally, I have good memories of Eurovision 2019 from Tel Aviv and some special funny moments connected to Zena from Belarus, but overall Like It is a very modern song which appeals to the young audience and that's probably the reason why it made it to the final. I am not a big fan of Zena nor the song itself, but I am glad Belarus was in the final once again.
Liza P. – I like it, like it, like it – the entry from Belarus 2019. First time I heard it, I thought that it was a very happy and energetic song. I think that the performance on stage is very energetic and powerful too. And I think she has a very good and strong vocal. However, the background images doesn't really fit the rest of the performance.
One could argue, that it is annoying with the many repeats in the song – but let's face it, when it comes to annoyingly repeating a line Switzerland 2004 won that contest years ago.
Miljan T. – I loved Like It from the get go, and I was very impressed how the song developed from the poor sound at the national presentation to the national final and official studio version. Her vocals were not that good in Tel Aviv in the end, but it was still solid and I think it deserved a better place.
Grace W. – I remember when this won the national final, it definitely wasn't one of my favourites and even today it still kind of gets on my nerves. But it's a typical Eurovision performance and I can see why it made it to the final (even if it was just barely).
Alvaro S. –  I must confess I did not like this song at all when it won its national selection. I don't love it and it will probably never make my playlist but certainly ZENA with her charisma onstage, and her performance made a song I would otherwise rate as average more competitive and managed to go to the finals. This performance certainly fits with the rebellious, full of energy, teenage message of the song.
John E. – Not one of my favourites…it just made it through the semis in 10th place. I found the song very repetitive and loud throughout although I found the staging interesting. It also fails to stick in my memory. I liked Zena, who I think deserved a better song than this.
Craig M. – The 2019 song by Zena was not one of the standouts for me. Zena was lovely, her stage show was high-energy, and for a 16yo, she was super confident on stage.. But the song itself was average at best. I was surprised it made the final, as it was it was near place in the semi-final for me. Still, credit to Zena, she can only work with what she had, and with an average song, she really did a good
Charlotte J. – I was so surprised to see this qualify for the final in 2019. How did that happen? I can easily find 5 other songs in that semi-final which deserved it more, but didn't make it. Sorry, but I have no words for this… really not my cup of tea.
In the video below, please enjoy ZENA's 2019 Eurovision entry. Below the video you can read more about her.
ZENA – a brief biography
ZENA was born Zinaida Alexandrovna Kupriyanovich, or how about Зіна Купрыяновіч, on 17 September 2002 in Minsk, Belarus. At the age of 11, Zina, as she was known as then, began her career as a child star. Competing in the contest, New Star 2013 she was beaten by Cuban, Roberto Kel Torres.
Not about to give up, the following year, she took part in Slavianski Bazaar in Vitebsk, but this time had to concede to Ukranian, Anastasiya Baginska.
She went on to be one of the hosts of the Junior Eurovision Song Contest 2018 when it was held in Belarus.
The following year she represented the country at Eurovision with the song, Like It.
Prior to Like It, she had released the songs Mir and Kosmos.
ZENA voiced the Russian version of the title role of Disney's Moana, and currently voices the role of Emilie in the series, Sunny Bunnies.