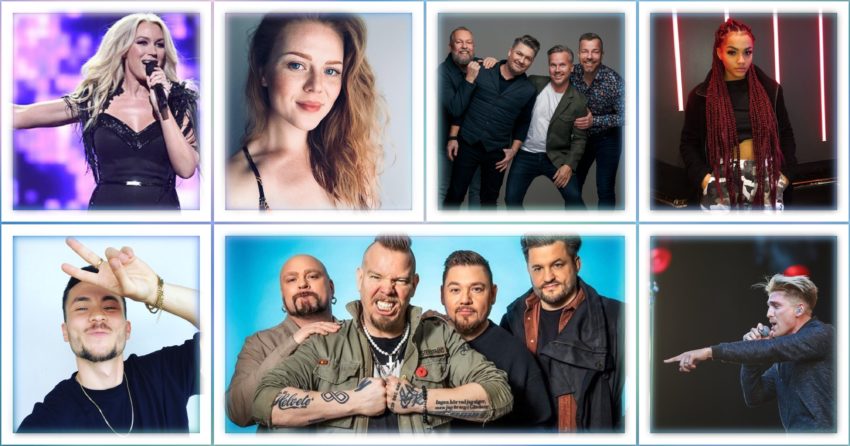 Two former Eurovision participants are among the seven acts that will compete in the first heat of this year's Swedish Melodifestivalen selection. Here's a closer look at the acts that will compete this Saturday, the 6th of February.

Many fans have been looking forward to this moment; the start of Sweden's Melodifestivalen. Through four preliminary heats and one second chance round, 28 acts will be reduced to 12 acts competing in the final. On the 13th of March, the winner of Melodifestivalen – and thus Sweden's Eurovision representative – will be crowned.
Let's take a closer look at the 7 acts competing in the first heat to be held this coming Saturday, the 6th of February:
Kadiatou – One Touch
(Songwriters: Joy Deb, Linnea Deb, Jimmy "Joker" Thörnfeldt, Anderz Wrethov)
Kadiatou Claudine Holm Keita is 19 years old. In 2018, she took part in the TV talent show Idol, reached the final and finished second. Her first single Say Something was released a few months after the Idol final. Since then, a few more singles have been released, the latest being a couple of Christmas singles just a few months ago.
Lillasyster – Pretender
(Songwriters: Isak Hallén, Jakob Redtzer, Martin Westerstrand, Ian Paolo Lira, Palle Hammarlund)
Under the name Lillasyster, which means little sister, we find a Swedish hard rock band. They were founded in 2004 under the name Rallypack, which was then changed to Lillasyster. Their first album was released in 2007 and carried the name Hjärndöd Musik För En Hjärndöd Generation (Brain-dead music for a brain-dead generation). Over the years they have been productive and now have six albums behind them.
Jessica Andersson – Horizon
(Songwriters: David Kreuger, Fredrik Kempe, Markus Lidén, Christian Holmström, Jesper Jakobsen)
2021 marks Jessica's 8th Melodifestivalen appearance. She won in her very first one; in 2003. Back then, she was a part of the duo Fame, and they finished 5th at the Eurovision Song Contest. 2003 was also the year when she was awarded as 'Sweden's sexiest woman'. Jessica has released various singles and albums, played musicals and even taken part in – and won – Let's Dance in 2011.
Paul Rey – The Missing Piece
(Songwriters: Fredrik Sonefors, Laurell Barker, Paul Rey)
Behind the name Paul Rey we find 28-year-old Pauli Sebastian Jokela. He is born and raised in Sweden, but his mother was from Chile and his dad from Finland. His debut Good As Hell was released in 2015 as an EP. A few more singles and EP followed since then; including his own produced Note To Self in 2018. Last year, in 2020, he got his Melodifestivalen debut where he finished 6th in the final.
Arvingarna – Tänker Inte Alls Gå Hem
(Songwriters: Stefan Brunzell, Nanne Grönvall, Thomas G:son, Bobby Ljunggren)
This band was formed in 1989, and over the years they have taken part in the Swedish Melodifestivalen a total of five times. This will be their 6th appearance. They have made it to the Eurovision Song Contest once; in 1993 with the song Eloise. Despite this being nearly 30 years ago, the band very much still got a grip around its audience. They are popular, release many singles and albums and in 2019, they finished 7th in the Swedish final.
Nathalie Brydolf – Fingerprints
(Songwriters: Andreas Stone Johansson, Etta Zelmani, Laurell Barker, Anna-Klara Folin)
Maria Nathalie Brydolf is 25 years old. In 2018, she participated in the TV talent show Idol where she finished in sixth place. The following year, in 2019, it was another quite different TV show where we saw her in. She participated in the dating programme The Bachelor.
Danny Saucedo – Dandi Dansa
(Songwriters: Danny Saucedo, Karl-Johan Råsmark)
This will be the 4th Melodifestivalen appearance from Danny, and just like the previous three times; it's once again with a song he wrote himself. He shot to fame in 2006 where he took part in the talent show Idol. He started the group E.M.D. in 2007 and after a few years, he focused on his solo career. In 2008, he also took part in Let's Dance. He has also been hosting Melodifestivalen and written songs for others.
Two of these acts will qualify directly to the final. Another two will make it to the Second Chance round. As for the remaining three; they are unfortunately no longer in the run to represent Sweden at the 2021 Eurovision Song Contest.