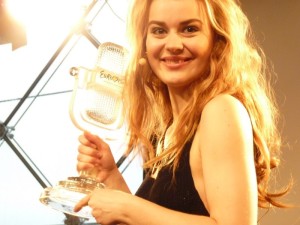 The deadline to sent in songs for the Danish national final has passed. With a total of 872 songs submitted, the broadcaster experienced an increased interest in representing the country at next year's Eurovision Song Contest. Can Denmark do the double, which they were close to in 2001?
On the 8th of March 10 songs will compete from the stage in Arena Fyn, Odense. Only one winner will be announced: The one that will get to represent Denmark at the 2014 Eurovision Song Contest held on homefield in the capital, Copenhagen. 
Today the broadcaster, DR, announced that they have recieved 872 songs, which is a significant new record. Compared to last year, which was also a high year, it has been increased by 26%. At the Danish broadcaster they are not in doubt that this is the victory effect: "It is a very special year as we are to be hosts. I think that has been a part of creating a lot more attention, which then resulted in this great number", says DR's entertainment editor Rasmus Ladefoged.
A jury will now select the songs and talk to the wildcard possibilities for the Danish final – and in some months the announcement of the 10 competing songs will come.
Songs selected for Dansk Melodi Grand Prix 2002 – 2014:
2014: 872, 2013: 692, 2012: 678, 2011: 663, 2010: 592, 2009: 684, 2008: 443, 2007: 475, 2006: 336, 2005: 263, 2004: 315, 2002: 662. 
There was no Danish final in 2003 as Denmark due to EBU's rules weren't allowed to participate that year as a consequense of a bad placement the year before.
You might also want to read: