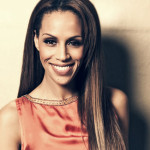 Dutch singing sensation Glennis Grace recently held a unique hologram concert in The Hague and will also participate in the ceremony marking the king's accession to the throne. Even though she has a jam packed schedule, the artist has just confirmed a tour for early next year and plans for a new Dutch language album later this year.
Since representing The Netherlands back in 2005 with My Impossible Dream, Glennis Grace's fame has rocketed, fuelled by such monster hits as Wil je niet nog een nacht and Afscheid. Never one to rest on her laurels, the singer is constantly on the move, and even though she has a busy summer and autumn ahead of her, she recently revealed on her website plans for a brand new Dutch language album later on in the year. This will be the follow up allbum to her highly succesful album This Is My Voice, released earlier last year. The album is at the time of writing untitled, but is slated for release some time during the summer. A lead single can be expected from the album within the next few months.
For the second time in her career, Ms Grace is planning to hold a massive cocnert at the Heineken Music Hall in Amsterdam on the 14th of September before she kicks off her nationwide tour at the beginning of 2014 to support her newest studio release. Her planned tour will also be a career first for her, with it being the first time she has had her own theatre tour around The Netherlands. The show that she is taking on tour will be a musical journey through her life and career. On the prospect of embarking upon this particular kind of tour, the singer stated: "I've been busy with loads of great projects these past few years. The only thing I felt I've been missing is my own theatre tour. People often approached me, asking if I would even consider such a tour, but I always felt that the time was never quite right for it. With a new album planned for later in the year as well as a huge concert at the Heineken Music Hall, a theatre tour would be the perfect complement to where I'm at right now."
The tour is simply called Glennis Grace – Live In Concert and kicks off on the 5th of February in Almere and will consist of nineteen dates, with the tour ending in a final concert in Beverwijk on the 24th of April. The complete list of tour dates is as follows:  
05.02. Almere, Schouwburg Almere  
13.02. Zaandam, Het Zaantheater   
19.02. Gorinchem, De Nieuwe Doelen  
25.02. Veldhoven, Theater de Schalm   
26.02. Deventer, Deventer Schouwburg   
05.03. Stadskanaal, Theater Geert Teis  
06.03. Almelo, Theater Almelo   
15.03. Waalwijk, Theater de Leest  
19.03. Amstelveen, Schouwburg Amstelveen 
20.03. Hoorn, Schouwburg Het Park   
22.03. Steenwijk, Theater de Meenthe   
27.03. Vlaardingen, Stadsgehoorzaal 
29.03. Breda, Chassé Theater  
03.04. Zoetermeer, Theater Zoetermeer  
04.04. Assen, Theater de Nieuwe Kolk   
12.04. Helmond, Theater Speelhuis   
14.04. Utrecht, Beatrix Theater   
19.04. Maastricht, Theater aan het Vrijthof   
24.04. Beverwijk, Kennemer Theater
Tickets for the show are already on sale, costing €29, and can be booked through the Nationale Theaterkassa website.
You might also like to read: