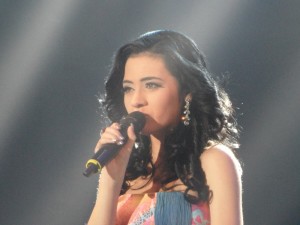 Domenique Azzopardi has not only been busy taking part in the Malta Eurosong with Too Little Too Late, where she reached the final, but she has also released a brand new single, The Last Time.  The song is composed by Rita Pace and Mark Debono
Domenique Azzopardi has come a long way since participating in the Malta Junior Eurovision festivals and even from the 2011 Malta Eurosong where she performed I'll Follow The Sunshine composed by Ralph Siegel and Bernd Meinunger.
Her musical style has matured and now she is singing a wide variety of musical styles.  Too Little Too Late was a soft and gentle ballad that reached the 2013 Malta Eurosong final.  Her new single, The Last Time, is a totally contrasting song.  It is an upbeat and catchy dance song.
Domenique is a regular guest on the popular entertainment show, Sibtek, in Malta.  In the show she consistently shows her versatility in singing different styles of songs such as Perfect by Pink, Rolling In The Deep by Adele, Wings from Little Mix, Secret Combination by Kalomira (Greece ESC 2008) and Maltese language ballads like Festa Fis-Smewwiet.
Now Domenique is planning some exciting new projects in 2013.  EuroVisionary will bring you any news as and when it happens. 
You can see Domenique perform The Last Time below.
You may also like to read –