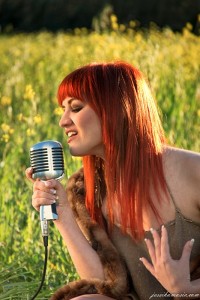 Jessica Muscat is a familiar name in the Maltese music scene and has taken part in previous Malta Eurosong selections and indeed is hoping to be part of the 2013 finals.  Jessica has just released a new single and video called Golden Ways with the name Jessika.
Jessica Muscat was in the 2008 Malta Eurosong with Tangled and also took part in 2011 with Down Down Down.  She currently has three songs in the second phase of the 2013 Malta Eurosong selection.  They are In Your Kiss written by Jessica and Philip Vella, Serenità composed by Rafael Artesero Herrero and also Jessica again and finally Ultraviolet written Gerard James Borg, Jessica and Thomas G:son (the winning composer of the 2012 Eurovision song Euphoria).
The new single by Jessika is a different style to what we have previously heard.  She has made a promotional video to accompany the song.  There will also be a forthcoming album recorded in Ibiza, Spain.  The album will combine many different styles of music like r'n'b, pop and dance.
You can read more about Jessika at her official website and you can see the video for Golden Ways below.