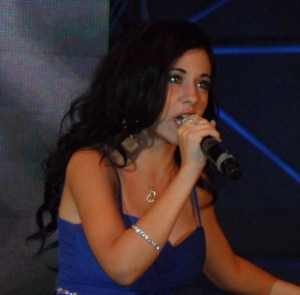 Domenique Azzopardi is fastly becoming a respected and established singer in Malta.  She is dreaming of representing Malta at the Eurovision Song Contest.  Domenique has submitted songs for the Maltese selection by Maltese composers and also foreign composers.
Domenique took part in the 2011 Malta Eurosong with I'll Follow The Sunshine composed by Ralph Siegel and Bernd Meinunger.  She also took part in several editions of the Malta Junior Eurovision selections. 
But now Domenique has moved on and matured in to a fine and respected singer in her homeland.  She has participated in the Malta Hit Song Contest in 2010 with Violet Skies and in 2011 with Love Trap.  In September she was awarded the bronze prize at the prestigious 2012 Konkors Kanzunetta Indipendenza festival in Malta with the song, Tama U Kuraġġ.  A song composed by Eurovision songwriter Philip Vella and his daughter, Cher Vella.
Domenique is a regular performer at the popular Maltese entertainment show, Sibtek.  She has performed classic songs by Adele such as Rolling In The Deep and Someone Like You and recent hits like Wings from Little Mix and Jar Of Hearts by Christina Perri and also a classic Eurovision song from Turkey in 2009 by Hadise, Dum Tek Tek.  On each song Domenique has made her own special interpretation.
Watch out also for Domenique's brother, Christian Azzopardi.  He is also a rising star in Malta and has had success in several music festivals like Konkors Kanzunetta Indipendenza and the Malta Hit Contest.
You can see Domenique's performance of Tama U Kuraġġ and  Dum Tek Tek below.