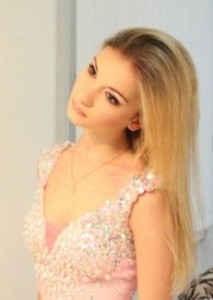 Diana Gromova took part in the Belarus Junior Eurovision selections from 2007 to 2009. She has just released her brand new song called Adkazhy (Answer Me). It is her first release performed in the Belarussian language. The song is about love with a happy ending.
Diana Gromova competed in the Belarus Junior Eurovision national selections in 2007 through to 2009. She came very close to representing her country.
Diana has since seen her career blossom with several releases and also she has learned a lot by studying and performing at a music academy in the USA. She has also been touring Russia and Belarus promoting her music and performing with other singers and dancers in to showcase the youth from those countries.
Diana has just released her new single. It is her first official recording in the Belarussian language. It is called Adkazhy and it is composed by an up and coming composer from Belarus in the name of Mikita Naidzenau.
Soon Diana will release a promotional video for Adkazhy. Keep with EuroVisionary and we will bring you news on that video as soon as it is released.
You can hear and view photo clips of Diana in the video below of her song, Adkazhy.
You may also like to read –