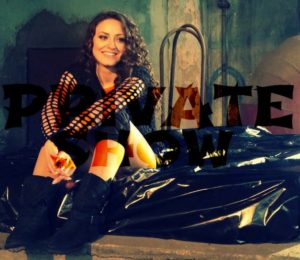 Sara Markoska has come a long way since representing FYR Macedonia at the 2009 Junior Eurovision Song Contest. She returns with her brand new single and video called Private Show, which really shows her maturity as a singer and performer.
Even before the 2009 Junior Eurovision Song Contest Sara Markoska was achieving success in FYR Macedonia and abroad. But her entry, Za ljubovta, was where an international audience started to notice. She has since released several songs in FYR Macedonia and took part in international festivals such as the Baltic Song Contest in Sweden.
Sara's last release was a reggaeton dance rap song with Pancho called Zeleno svetlo. Now Sara returns with a new r'n'b dance song sung in English. The song is called Private Show. The video shows Sara's increasing confidence and maturity as an artist. The song is composed by Zoran Aleksic with lyrics by Renata Kralevska. The video is produced is Aleksandar Ristovski Princ and the choreography was arranged by Jana Andrejevic.
The style is something you can imagine Rihanna or Beyonce performing.
The Private Show song and video is to be released internationally and Sara is hoping for some worldwide success as her career continues to gather pace.
You can like and follow Sara for all her news and music and videos at her official Facebook page 
You can see the video for Private Show below. 
You may also like to read –