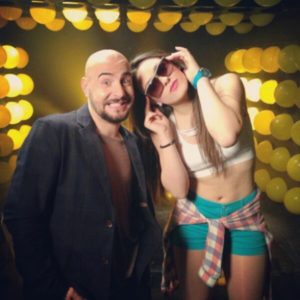 Sara Markoska has released a new single and video in FYR Macedonia together with rapper, Pancho.  The song is called Zeleno svetlo.  The composers  Lazar Cvetkoski and Magdalena Cvetkoska-Ena are two of the composers of this year's Eurovision song by Esma & Lozano.
Sara Markoska represented FYR Macedonia in the 2009 Junior Eurovision Song Contest with Za ljubovta.  Since then Sara has had much success at home and abroad.  She took first prize at the popular Makfest competition in 2012 with her song, Posle nego.  Sara has also had success in festivals such as the Baltic Song Contest in Sweden.
Sara has teamed up with Macedonian rapper, Pancho, for her new song and video.  The track, Zeleno svetlo, is a r'n'b/rap song.  The rap lyrics are by Pancho and the music and lyrics are Lazar Cvetkoski and Magdalena Cvetkoska-Ena. Lazar and Magdalena composed the 2013 Eurovision song Pred Da Se Razdeni for Esma & Lozano together with Darko Dimitrov and Simeon Atamasov.
The video for Zeleno svetlo has a cool and summery feel and is courtesy of Tomato Productions. It is a colourful and happy video that is set to be summer hit in FYR Macedonia and around the Balkans.
You can see the video for Zeleno svetlo below.
You may also like to read –