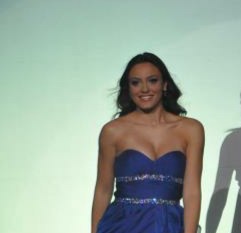 Sara Markoska has won first prize the prestigious 2012 Makfest competition in FYR Macedonia with the song, Posle nego.  Sara first became known an international audience at the 2009 Junior Eurovision Song Contest.  Now her musical career is on the rise and she is becoming increasingly more popular.
The competition was held over three nights and Sara won the best newcomer on the first evening.  Then she won in the final.  She was very excited to get the audience vote.  Posle nego is a Plan B production for Jovanov Records.
Sara represented FYR Macedonia at the 2009 Junior Eurovision Song Contest with Za ljubovta.  This song could easily have been a song that would have done well at the adult Eurovision contest.  However, Sara's career is going from strength to strength.  She has taken part in several festival at home and abroad including the 2011 Baltic Song Contest in Sweden.
Sara also reached the final of the M2 Proekt talent show in 2010 and won the best newcomber award at the Ohrid Music Festival in the same year.
Sara is tipped by many fans and journalists to one day soon represent her country at the Eurovision Song Contest.
You can see Sara perform Posle nego below.