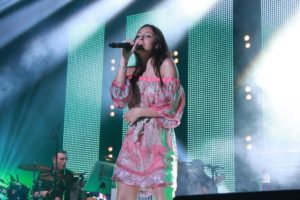 Sara Markoska, who represented FYR Macedonia at the 2009 Junior Eurovision Song Contest, recently represented her country at the 2011 Baltic Song Contest in Karlshamn, Sweden.  She performed 2 songs in the contest.
Since representing FYR Macedonia at Junior Eurovision with the song, Za ljubovta, Sara Markovska has become even more popular in her home country and has performed in several important festivals at home and abroad.
In 2010 Sara won the newcomers awards the Ohrid Music Festival in FYR Macedonia. She also got to the final of the the popular talent M2 Proekt in her homeland.
Sara now had the opportunity to represent FYR Macedonia at the Baltic Song Contest.  She performed 2 songs, Bez sram and Kazi i da na ljubovta. Sara will also perform this month at another festival in her homeland with several well known acts.
The contest was won in 2010 by the Latvian Eurovision singer of the same year, Aisha. This year the contest was won by Norwegian band, Discotek, and the song, Don't Know Your Name.