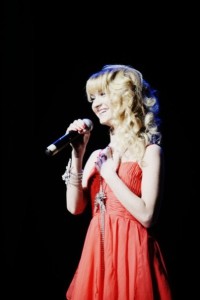 Diana Gromova was a finalist in the Belarus Junior Eurovision pre-selections in the years from 2007 to 2009.  Now Diana has released two new songs for 2013 and has been touring with her music and also helping promote and unite Russian and Belarussian youth culture in Russia.
Diana Gromova first appeared in the 2007 Belarus Junior Eurovision national selection with her song, Lady Diana. This was a tribute to the late Princess Diana.  In 2008 she returned with Ta-Ru-Ram and just missed out representing her country by finishing in second place.
In 2009 Diana was back again with Ey, malchishki i devchonki.  Diana was a guest at the Belarus Junior national selection in 2011 where she performed the Katy Perry hit, Firework.
Since the Junior Eurovision years Diana has been maturing her vocals and her music and spent time studying and performing at a music academy in the USA.  She has also recorded several songs and been touring in several countries.
She recently released two new songs. Ti YShel is a gentle ballad that shows off Diana's soft and beautiful voice.  Her second song is an uptempo dance song Laki me ne stav (Like Is Not Enough).  This is a song Diana submitted to Eurovision but now she has recorded it in the Russian language.
Diana will release more new material later this year but in the meantime she has been touring Russia with her music and performing with other vocalists and dancers to promote unity for the youth in Russia and Belarus.  She performs songs like One Night Only by Jennifer Hudson and Firework as well as her new music.
You can see Diana perform Laki me ne stav (Like Is Not Enough) below.
You may also like to read –