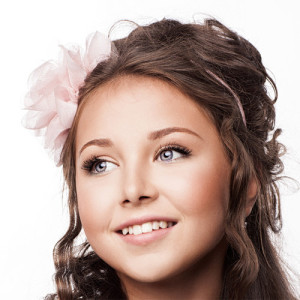 The new and official audio version of the Ukrainian 2013 Junior Eurovision Song by Sofia Tarasova has been released. We Are One has been produced by Mikhail Nekrasov and composed with Sofia herself.  Sofia won the right to represent Ukraine after winning the national selection in August.
Mikhail Nekrasov is a very popular composer and producer in Ukraine. He was the musical arranger of Wild Dances by Ruslana that won the Eurovision Song Contest for Ukraine in 2004 in Istanbul.
Mikhail also composed and arranged Show Me Your Love by Tina Karol in the 2006 Eurovision in Athens. He also took total music responsibility for this year's Eurovision entry by Zlata Ognevich, Gravity. He also works on several other songs for Zlata.
The new version of We Are One by Sofia Tarasova can be heard on Soundcloud. You can also hear other Ukrainian Eurovision associated artists here including Zlata Ognevich.
Sofia will carry for the flag for the host nation in Kiev on 30 November. The current champions of Junior Eurovision are Ukraine after the big success of Anastasiya Petrik and Nebo in 2012.
You can see Sofia perform We Are One from the Ukrainian Junior national final below.
You may also like to read –