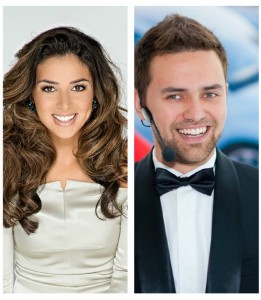 The hosts for the 2013 Junior Eurovision Song Contest have been announced and they are Zlata Ognevich, who represented Ukraine at the 2013 Eurovision with Gravity, and Timur Miroshnychenko.  The host broadcaster confirmed they will be the presenters for the show on 30 November at the National Palace of Arts in Kiev.
Zlata Ognevich was highly acclaimed and a respected performer at the Eurovision Song Contest in Sweden in May this year.  She took her song, Gravity, all the way to third place.
Timur Miroshnychenko has been a commentator in Ukraine for Eurovision and Junior Eurovision for several years.  He was also the host of the Junior Eurovision when it was last held in Ukraine in 2009.  His co host that year was the 2008 Ukrainian Eurovision participant, Ani Lorak, who performed Shady Lady in Belgrade.
The 2013 Junior Eurovision currently has nine confirmed countries taking part.  Albania recently decided to pull out even though they had publically been advertising for songs to be submitted.  However, we see the return of Malta and FYR Macedonia to the competition.  It is hoped we might see some more countries added to the contest in the coming days.
You can see Zlata's video of her 2013 Eurovision Song, Gravity, below.
You may also like to read –