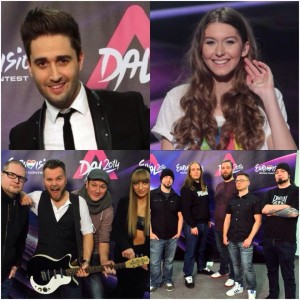 Tonight A Dal 2014 reached its first semi final of this weekend with the final looming next Saturday night. This evening the competition saw a mixture of groups and soloists compete again as they vie to represent Hungary in Denmark. Semi Final 2 is tomorrow night, then the full final line up will be known.
Semi Final 1 got underway tonight with 9 acts taking to the stage for a second time with only four places available to advance to the final next Saturday night. The top acts who score highest from the jury in studio will go automatically through and be followed by two further acts who are decided by the public vote.
The Songs
1 Mystery Gang – Játssz még jazzgitár (Keep on playing jazz guitar) (M & T: Péter Egri)
Similar to last week these guys are really energetic and the opening performance with their instruments is fantastic, especially how nifty the moves of the double bass are carried out, it's spinning and flipping and really acrobatic. The styling of the group stands out with matching animal print short sleeved shirts and jeans. I was surprised that this got through from last weeks third quarter final but tonight it has grown on me a little more. The fact they got the public vote behind them will certainly help them in the final shake up.
2 Joni – Waterfall (M: Johanna Toth Gabriella Wilson,
Michael James Down, Emanuel Abrahamson, Dimitri Stassos / T: Johanna
Toth Gabriella Wilson, Michael James Down, Emanuel Abrahamsson, Dimitri
Stassos Tamas Pataki)
A little Katy Perry-esque, could this be the second Waterfall song to
Eurovision in as many years, following Georgia 2013?
Very impressed by this song and by Joni who is dressed all in black with a wide white belt on her waist. Backed by three female backing vocalists. This track was put through to the
semi finals by the jury from quarter final 2.
3 Viktor Király – Running Out Of Time (M: Király Viktor, Diamond Duggal / T: Victor King, Thomas King)
Energetic and slick, he really gives a polished performance in his shiny blue suit. Very good
riffs and it does have a Bruno Mars meets Maroon 5 sound about it.
Assisted by 4 female and 1 male backing vocalist the presentation is
colourful. There was a request by him to get the audience to clap along, perhaps they did but it wasn't being picked up on studio mics. Getting another good score as he did in the quarter final
from the jury tonight would ensure he is through to the final.
4 Group 'n Swing – Retikül (M: Aaron Romhányi / T: Martin Harwood)
Upbeat, 40's/50's swing beat throughout. Our lovely female lead singer
does a super job of keeping the song going with gusto with help from the rest of
the group. I always appreciate instruments on stage, in this case two trumpets, a saxaphone and a trombone. It's has slight similarities to Christina Aguilera's Candyman song from a few years ago, only in
Hungarian. Voted in by the public vote first time around they face very stiff competition tonight.
5 Bogi – We All (M: G. Toth Zoltan / T: Peter Fisher, G. Toth Zoltan)
This is a modern pop song performed by a very good singer, very airy and breathy opening and then it kicks in with the beat. Bogi wearing a very natural look; white t shirt with a hot air balloon printed on it and jeans.  It sure is catchy and repetitive, we all, we all, we all live together. Very easily remembered lyrics. First time around and again tonight this song scored highly with the jury in studio.
6 Depresszió – Csak a zene (Only the Music) (M: Adam Hartmann, David Nagy, Francis Fisher, Zoltan Kovacs, Palffy Nicholas / T: Francis Fisher)
I'm hearing sounds and feeling vibes of Lordi or even Chad Kroeger of Nickelback in this one. It is performed confidenly and very assuredly delivered by the group. Wearing t shirts, long haired and rock credentials are all over this one. This would stand out so much in Copenhagen should it get through. Being voted through from the first quarter final 3 weeks ago they could see the public votes go their way tonight.
7 Leslie Szabó  – Hogy segíthetnék (How can I help?) (M & T: Leslie Szabó)
Away from all the props, show, flashiness and so on this song stands out. Very easy listening, calm and has a story to tell. I can detect
some sorrow, a little heartache in here. Acousticly presented by Szabó and very pleasant as it is. Thoughts of Dino Merlin come to mind. 
8 Gigi Radics – Catch Me (M: Freja Flomberg, Maria Marcus / T: Charlie Mason)
The entire stage show has got it all; pretty girl, shirtless dancing
males, modern dance moves, props thrown in for good measure. I think the vocals were a little better in last weeks quarter final. Can Catch Me
get out of the semi final tonight? Last week Gigi was successful in
securing the public vote and making it to this week.
9 New Level Empire – The Last One (M : Zoltán Szilveszter Ujvári, Péter Krajczár, Sándor Nyújtó, Petra Mayer / T: Zoltán Ujvári)
Is it a case of best for last? I personally think this really could be the Hungarian entry 2014. Similar to last week the track was really warmly received. It has that really likable sound to it, very cool, mass appeal. I think this is very likely to be in the final.
The Show
Live from the MTV Studios in Budapest the hosts of the series are Éva Novodomszky and Gábor Gundel Takács and throughout the main show. Sporadically especially during the duration that the phone vote is open our main hosts are joined by Krisztina Rátonyi and Levente Harsányi who are on hand as backstage presenters. Last years Hungarian entry ByeAlex is also on hand as a commentator for social media. Tonights interval performance was by Korda György and the Hooligans.
The Voting
The jury on A Dal 2014 who give a critique and vote on all entries are Kati Kovács, Philip Rákay, Jenő Csiszár and Magdi Rúzsa (who represented Hungary in ESC Helsinki 2007). For tonight and tomorrow nights semi finals they can put 2 acts, those that get the highest votes from themselves direct to the final with the other two acts being decided by the public vote.
The 4 acts through to next weeks A Dal final are:
Viktor Király (Jury)
Bogi (Jury)
New Level Empire (Televote)
Depresszió (Televote)
Tomorrow night at 20.20 CET the second semi final takes place to decide the line up for next Saturdays A Dal Final.
Hungary at the Eurovision Song Contest
After a very strong debut in Dublin 1994 finishing 4th place with Friderika Bayer, Hungary have had mixed fortunes over the past 20 years and sat out participation from the contest for a number of years in between. Since the birth of the Semi Finals Hungary have qualified 5 times out of their 7 attempts with A Dal Jury member Madfi Rúzsa finishing 9th in Helsinki 2007 and ByeAlex 10th in Malmo 2013.
You might also like to read: