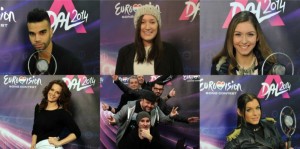 Six more acts have qualified for the next round of the 2014 A Dal competition in Hungary. This was the second of three quarter finals and two more semi finals will eventually lead to the grand final of the A Dal on 22 February. 
Who will join the six acts that already qualified from last week's show? Ten acts participated tonight and you can read more about them in our get to know article.
The Songs –
1. Dér Heni – Ég veled
We begin with a gospel influenced song. It is bright and looks good on stage. The song goes in to a fast swing type movement and one point. She is dressed in a light blue short dress with multi coloured glittery stripes. There are three backing girl singers and two male dancers.  
2. Belmondo – Miért ne higgyem
Belmondo are a five piece male band. They consist of three guitarits including the lead singer and a drummer and pianist. It is an accoustic type slowish pop song. The band are all dress in light blue shirts and dark ties. The background was a shape of a boy and girl with big circular heads. 
3. Joni – Waterfall
Joni performs a ballad that builds gradually in to a nice melody. She is wearing a black dress. She has three female backing singers. The lighting is dark but there are nice images of waterfalls flowing on the background. 
4. To Beat Or Not To Beat – Meg akarom mondani
A very Beatles influenced song with a 60s feel. The band are four piece male with instruments. They are wearing black leather jackests and white shirts with black ties. Three guitarists and a drummer. Nice solo guitar. Background is colourful multi coloured discs and shapes. A bright retro sound.  
5 .Bogi – All
Joni is sitting on stool as the song begins slowly. The songs then builds to an rock pop song with a good production. Bogi is casually dressed in white t-shirt with a balloon on the front and blue ripped jeans. She has two female backing singers and a male guitarist and drummer. The background is of falling balloons and wildlife such as tigers and pandas. A lively and happy song.
6. Tamás Vastag – Miss One Smile
Tamás performs this gentle ballad that in my opinion is a little bland. It is well performed and he is wearing a black leather jacket and white shirt. In the background we have a scene of rolling mountains. He is joined by four male musicians (two guitarists, keyboard player and drummer).
7. Szécsi Saci & Szécsi Böbe – Born To Fly
A very bright stage with a vivid sun rising and then revolving in the sky and then this turns in to the moon with dark skies. One of the girls is standing at a microphone and the other girl is playing the piano. There is a male guitarist and two female backing singers. The overall feel of the songs is anthemic and very catchy with retro 60s sound. The girls had some problems with the headphones and the vocals suffered a little. But this is a happy and feel good song. 
8. Lilla Polyák – Karcolás
Lilla is wearing a long black dress. She is accompanied by two female backing singers and two male vocalists. The stage has a blue and white theme with flashing images and then turns red. The song is a power ballad that is performed very well vocally. 
9. Musicfabrik – This Is My Life
An electro pop song. It is upbeat and has a good rhythm. The band is five males with a female vocalist backing the lead singer. The stage is bright with pink and white flashing images. The guys are wearing black leather jackets and jeans. The girl is wearing a black dress. There are two keyboard players and a drummer and guitarist. 
10. András Kállay Saunders – Running
Andras begins sitting on a chair and there is a female piano player with a teddy bear facing her. The song then becomes upbeat. There are two female backing singers  Then a girl and boy perform a dance in the middle of the stage. The lighting is red and white flashing images. The rhythm is jaunty but a little disjointed but the audience and judges like this.
The Show –
The hosts for the show this evening were Éva Novodomszky and Gábor Gundel-Takács.
Magdi Rúzsa performed a song in the interval and it also announced again there will be a separate online voting for best accoustic version. All the songs have been recorded in accoustic versions. The winner of this will participate in a concert with the MTV concert orchestra. This is nothing to do with the result of the A Dal.
The Voting –
The jury consisted of Jenő Csiszár, Kati Kovács, Magdi Rúzsa (ESC Hungary 2007), and Philip Rákay.
Three acts were decided by the public via televoting and three acts were selected by the expert jury. The six acts to progress are –  
András Kállay Saunders Jury
Joni Jury
Bogi Jury 
Lilla Polyák Televoting
Musicfabrik – Televoting
Dér Heni  Televoting