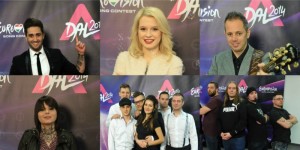 The road to Copenhagen began tonight for Hungary at the A Dal competition. Six acts have qualified from the first round and are through to the next phase. Three quarter finals and two semi finals will eventually lead to the grand final of A Dal on 22 February.
The first of the quarter finals was tonight and the next two will be on 1 February and 8 February. The two semi finals will be on 15 and 16 February. You can read more about the acts in our Get To Know article.
The Songs –
1. Group'n'Swing – Retikül
A colourful and lively opening. As might be predicted it is a 40's swing type song, There is a female lead vocalist wearing black sparkling dress and the band also consists of five male members moving around the stage but also finding time to play piano and saxaphone and dance at the same time. The stage is bright and the backgroud includes floating handbags. 
2. Laura Cserpes – Úgy szállj (Fly)
Laura returns after participating at last year's A Dal. She is wearing a pretty white laced dress. She has five female backing vocalists. The background stage has dry ice with clouds and earth and flying birds. The song is midtempo and has an anthemic feel and Laura gives a good vocal performance.
3. Lil C – Break Up
Slow piano intro and Lil C takes to the stage. The song builds in to a contemporary dance song. There are three backing vocalists (one girl and two males) and there are two male dancers. Lil C is wearing black leather sleeveless jacket and white t-shirt and black jeans. The stage is bright blue and white with strobe lighting. 
4. Oláh Ibolya – Egy percig sztár
The stage background begins with green shooting stars and reverts to keyboards with flashing numbers and letters. The is midtempo and quite catchy. Oláh is dressed in ripped jeans and black leather jacket and black t-shirt. She also has a large female faces tattoo viewable on her neck. She has two female backing vocalists. 
5. Extensive – Help Me!
The group Extensive are three young guys. It is a rock type teen song in the style of the British group, Busted. There are two guitarists (one of them is the lead vocalist). There is also a drummer. They are all casually dressed. There are lots of flashing lights and strobe effects. The background stage has cartoon teddy bears and comic super heroes. 
6. Leslie Szabó – Hogy segíthetnék?
Leslie is sitting on a stool strumming a guitar. It is a gentle accoustic song with a nice melody. He is alone on stage and is wearing grey jacket with dark shirt with white standard and black trousers. The background has various faces and statues and even images of a graveyard.  
7. Hien – The Way I Do 
Hien takes to the stage looking very stylish wearing short black leather shorts with checked shirt wrapped around her waist and she is wearing a black blouse. She has two male guitarists and male keyboards player and a female backing vocalist. This is a modern pop r'n'b dance song. It has a catchy melody and feel good vibe. The background evenutally becomes green lighting but started off with bouncing London buses and taxis. 
8. Depresszió – Csak a zene
Shades of Lordi without the make up and masks in this heavy rock song. The band are five piece made up of three guitarists, one keyboad player and a drummer. There are lots of strobe lighting and colourful background stage with neon lights. They are all dressed casually in jeans and t-shirts, etc. 
9. Marge – Morning Light
Marge is heavily pregnant and wearing an attractive white blouse with black pants. She is alone on stage to begin. The background stqge is very effective with mountains and diamond shapes. She is joined part way through the song by a female dancer. The song has a good production and beat and quite catchy. 
10. Viktor Király – Running Out Of Time 
A colourful presentation on stage. Viktor is wearing a smart blue suit with white shirt and black tie and he is holding a guitar. He is joined by four female backing vocalists and one male. The background is a mixture of female shapes and letters. The song is a pop song with some Police or Bruno Mars influences. 
The Show –
The hosts for the show this evening were Éva Novodomszky and Gábor Gundel-Takács. 
The interval included Zoltán Bereczki and one of the jury members, Kati Kovács. 
It was also announced there will be a separate online voting for best accoustic version. All the songs have been recorded in accoustic versions. The winner of this will participate in a concert with the MTV concert orchestra. This is nothing to do with the result of the A Dal. 
The Voting –
The jury consisted of Jenő Csiszár, Kati Kovács, Magdi Rúzsa (ESC Hungary 2007), and Philip Rákay.
Three acts were decided by the public via televoting and three acts were selected by the expert jury. The six acts to progress are – 

Viktor Király (Jury)

Marge (Jury)

Leslie Szabó (Jury)
Oláh Ibolya (Televoting)
Group'n'Swing (Televoting)
Depresszió (Televoting)
You may also like to read –