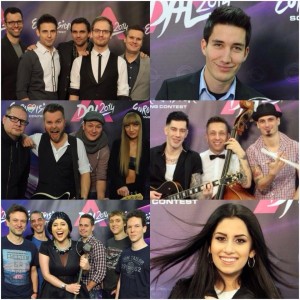 Tonight another six contestants have advanced to the semi finals of A Dal 2014. The third qualifying heat saw 10 acts perform on stage in studio. Next weekend a total of 18 acts will take part in two semi finals as the race to perform for Hungary in Copenhagen continues.
Who will follow in the footsteps of last years Hungarian entry ByeAlex?
The top 3 acts tonight will be put through by the jury to next weeks Semi Finals directly and the remaining 7 then face the pubic vote. The 3 with the most votes will successfully go through. Details on heat 1 and heat 2 can be found at the end of this article. To read all about tonights acts this article has all the background information you would want to know.
The A Dal semi finals will be held next weekend across Saturday 15th February and Sunday 16th February. The Final takes place a week later on Saturday 22nd February.
The Songs
1 Gigi Radics – Catch Me (M: Freja Flomberg, Maria Marcus / T: Charlie Mason)
I think Gigi is in the mood for some chasing. The high energy song and the performance is very assured assisted by her two female backing singers and not forgetting her 3 shirtless male dancers who move three door shaped frames around in sequence throughout. Tonight on stage Gigi wears white as do her female back ups. A fun uptempo track and very good vocals.  
2 Fool Moon – It Can't be Over (M: Attila Galambos, Vajk Szente / T: Máté Bella, Gergő Rácz)
This wasn't my first listen to the song, having heard it this week on escradio.com. It's smooth, confident but perhaps slightly dated. Vocals from the group blend really well and they have a show choir type beat box-esque sound. However not sure I would go for the seated option as they all remain seated for more than 2 minutes duration in the 3 minute track. The colour of choice tonight is black for the group, varients on a theme, bow ties, waistcoats, leather jackets, suit jackets and ties.  All very dashing and groomed.
3 Gájer Bálint – Elmaradt pillanatok (M: Áron Romhányi, Bálint Gájer / T: Tamás Orbán)
Gájer has a really relaxed and sureness about himself that comes across really well. Dressed in a deep red trousers with black blazer and white open coller shirt. The theme on stage is memories and images of a relationship. He is joined for backing vocals from two female and one male singer. One of the backing vocalists plays the piano throughout. The song is a quality ballad, very easy listening, like a solo track from a member of Westlife perhaps. Not sure it's what Hungary are in the mood for this year but it's still really good.
4 Gabi Knoll – Sweet Memories (M: Mike Previti, Steve Horner / T: Mike Previti, Steve Horner, Gabi Knoll)
First track of the night performed in english I'm quite impressed by Gabi – wearing a white dressed slashed from the neck to the middle and up from the thigh from the floor, she is placed centre stage. The song is quite current; a ballad but with a darker tone to it. The two female backing vocalists blend well with Gabi to create a really good mix. As good a vocal as she deliverers I think the impact is little lacking on this one.
5 New Level Empire – The Last One (M : Zoltán Szilveszter Ujvári, Péter Krajczár, Sándor Nyújtó, Petra Mayer / T: Zoltán Szilveszter Ujvári)
This is a group of very cool guys and gal all well turned out in black outfits. I have to comment on the opening seconds of the song; hearing built in applause and cheering on the track on first listen was a tad odd. I like the lead singers voice and he leads the entry well. The song reminds me of the backgroud music used in a sweet idilic picture postcard commercial. A little like Gary Go in parts. The beat changes three quarters of the way in and the song ends on a high note. A very strong prospect.
6 BülBüls– Minden mosoly (Every smile) (M: Géza Demeter/ T: Géza Demeter, Gábor Bruzsa)
There is an element the lullaby to this track, it's sweet and quiet initially and then a stronger beat kicks in off and on. It's all quite charming and light. Our lead vocalist Noémi Takács wears a light peach one shoulder top with a floral skirt and has her guitar strap over her shoulder as she plays while singing. Very sweet and lovely. Sadly it might get lost in the middle.
7 Linda Király – Everything (M: Linda Király, Támas Király / T: Shannon Sanders)
I'm reminded of actress Rebel Wilson in the hit movie Pitch Perfect – Everything is quite funky and upbeat here. This song and has a strong hook to the chorus. Tonight Linda is going for a street/funky look and her five backing singers/dancers are also dressed to match, for me it's not quite the treatment I think this song could have had. One of the male backing vocalists microphones seems to be too loud and his vocal can at times be heard too loudly – the on camera performance is fun but not quite up to the standard of the song.
8 HoneyBeast– A legnagyobb hős (The Biggest Hero) (M & T: Zoltán Kovács)
Dressed in a black wedding dress of sorts and a matching veil the only female and lead vocalist Zsófia is up front in this group. So far tonight this is the only entry with so many instruments in the performance; piano, guitar, drums and ukulele. The song is very radio friendly in terms of quality and appeal, whether it suits to the Eurovision stage I am not convinced. The staging could have been a little more ambitious on this one. Will keep an eye on it.
9 Pál Dénes – Brave New World (M : Gatti di Amalfi / T: Vera Jónás, Ákos Dobrády, Kriszta Kotsy, Pál Dénes)
Brave New World reminds me of a Gary Barlow or Take That track. It's modern and catchy. During the show tonight Pál is joined on stage by 5 female and 1 male backing artist. The stage screens depict spacemen playing keyboards above the earth and I am reminded of Paradise Oskar for a moment. The backing vocalists also use sign language on select word phrases on the song. My only concern is that it may be a little tame and missing wow factor element.
10 – Mystery Gang – Játssz még jazzgitár (Keep on playing jazz guitar) (M & T: Péter Egri)
Great to see the instruments on stage, drum kit, jazz guitar and a double bass. The track is fun and the guys wear bowling style 1950's inspired shirts. Our drummer is also the  Saxaphone player in the track. It's easy listening and repeative but again I am not sure it has what it takes to go to further than tonights heat.
The Voting
The jury on A Dal 2014 are Kati Kovács, Philip Rákay, Jenő Csiszár and Magdi Rúzsa (who represented Hungary in ESC Helsinki 2007)
The 6 acts through to next weeks semi finals are:
Fool Moon (Jury)
New Level Empire (Jury)
Pál Dénes (Jury)
Gigi Radics (public vote)
HoneyBeast (public vote)
Mystery Gang (public vote)

Hungary at the Eurovision Song Contest
After a very strong debut in Dublin 1994 finishing 4th with Friderika Bayer they have had mixed fortunes in the past and sat out participation in the contest for a number of years. Since the birth of the Semi Finals Hungary have qualified 5 times out of their 7 attempts with A Dal Jury member Madfi Rúzsa finishing 9th in Helsinki 2007 and ByeAlex 10th in Malmo 2013.
You might also like to read: