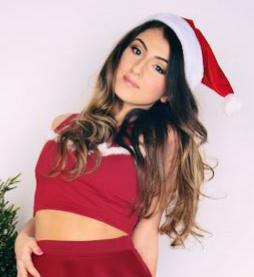 Luara Ayrapetyan has returned with a brand new song for this festive season. It is called Christmas Wish and is a gentle pop song that is perfect for this time of the year. Luara has also promised another new pop song and video early in 2014.
Luara Ayrapetyan represented Armenia at the 2009 Junior Eurovision Song Contest with her song, Barcelona. She finished in the runners up position that year with her lively football linked song.
Luara was originally born in the Russian city of Astrakhan and has an Armenian background. She is now living in the USA where she is furthering her education and concentrating on her pop career there. She has released two previous official singles and videos earlier in 2013. First up was the catchy and uptempo dance song, Fire In Me followed by the gentle mid tempo pop song, Story.
Now Luara has returned with a special gift for her fans with her new song and video, Christmas Wish. The lyrics are by Adryan Russ and production is by Bobby J and directed by Mihran K. The song is a lovely ballady and festive song with a simple and beautiful video.
Luara will also return with another brand new song early in 2014. Keep reading EuroVisionary for more news of this when it is released.
You can see Luara's video for Christmas Wish below.
You may also like to read –