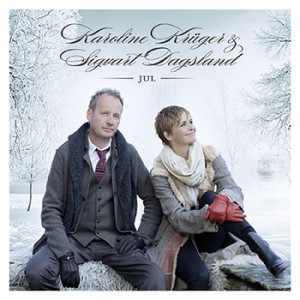 It's been a while since we last heard anything from Karoline Krüger, the Norwegian entrant from 1988. Her last album proper appeared back in 2004 in the form of De To Stemmer. Fans were given the perfect
Christmas present this year, with the release of a Christmas album, which Karoline has recorded together with her husband Sigvart Dagsland.
Much has happened in Karoline Krüger's career since her breakthrough, when she came fifth with the Anita Skorgan ballad For Vår Jord at the 1988 Eurovision Song Contest in Dublin. She went on to score a massive hit with the song You Call It Love, from the film L'Étudiante back in 1988, selling over 300,000 singles in France alone.
Karoline has released six studio albums during the course of her career, beginning with her debut Fasetter and her latest album De To Stemmer appearing back in 2004. In more recent years however, the artist has concentrated more on theatre and musical work than recording herself, resulting in amongst other things music for the play Veggen in 2011. But now Karoline is back once again with a project in collaboration with her husband, Sigvart Dagsland, which has been very well received in her native Norway.
The couple have recorded the album Jul (Christmas) together and for the past few weeks the pair have been travelling the length and breadth of the country with a string of Christmas concerts. The final show will be held on the 22nd of December in Varhaug. Jul comprises ten tracks, featuring both traditional Christmas songs as well as some specially composed duets, making the album a must for all fans of Karoline's music. The track listing is as follows:
1.  Vær hilset, mine frender
2.  Den Mørkaste Tida
3.  Stallsang
4.  Ding dong
5.  O jul med din glede
6.  Vuggevise
7.  Lille Messias
8.  Nå vandrer fra hver en verdenskrok
9.  Marias fang
10. Josef
11. Stille Natt
The album has been given both a physical and digital release on the Universal Music label and has proved to be a success, scaling the Norwegian album charts and peaking at number 3 thus far.  A video clip the couple have made to promote their album can be seen below.
You might also like to read: