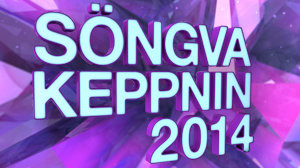 A total of ten entries were unveiled yesterday when details surrounding the Icelandic national selection Söngvakeppnin were made known. Both song titles, as well as the names of artists and composers were confirmed. Fans were finally given three more dates to pencil into their calendars, with the news of two semi finals and a final to look forward to.
It was during the primetime TV show Kastljós yesterday evening that Icelandic broadcaster RÚV published details of their national final selection, Söngvakeppnin 2014. Details of all competing songs were presented to viewers by the the two who will be hosting the selection, Guðrún Dís Emilsdóttir and  Ragnhildur Steinunn Jónsdóttir.
Next year's selection will be somewhat smaller, with a total of ten entries vying for the prize of 1 million Iceland Króna and the right to represent the saga nation on stage in Copenhagen next year. The format will remain unchanged from last year, with two semi finals taking place on the 1st and 8th of February, and a grand final scheduled for the 15th of February. Despite fewer contenders in the line up, RÚV could report a considerable increase in the number of submitted entries, 297 in total; a whole 25% increase on the previous year. The expense of a national selection has been the subject of some debate in Icelandic media lately, causing speculation as to whether RÚV would choose to downsize Söngvakeppnin or keep the existing format.
The complete line up for Söngvakeppnin is as follows:
Amor – Ásdís María Viðarsdóttir (T & M: Haukur Johnson)
Aðeins ætluð þér (Just For You) – Guðbjörg Magnúsdóttir (T & M: María Björk Sverrisdóttir / Marcus Frenell)
Dönsum burtu blús (Let's Dance Away The Blues) – Sverrir Bergmann (T & M: Pálmi Ragnar Ásgeirsson / Ásgeir Orri Ásgeirsson / Sæþór Kristjánsson)
Elsku þú (My beloved) – Vignir Snær Vigfússon (T & M: Vignir Snær Vigfússon / Þórunn Erna Clausen)
Eftir eitt lag (After One Song) – Gréta Mjöll Samúelsdóttir (T & M: Ásta Björg Björgvinsdóttir / Bergrún Íris Sævarsdóttir)
Enga fordóma (No Prejudices) – Pollapönk (T & M: Heiðar Örn Kristjánsson / Haraldur F. Gíslason)
Lífið kviknar á ný (Life Awakens Once More) – Sigríður Eyrún Friðriksdóttir (T & M: Karl Olgeir Olgeirsson, Sigríður Eyrún Friðriksdóttir)
Til þín (For You) – Guðrún Árný Karlsdóttir (T & M: Guðrún Eva Mínervudóttir)
Von (Hope) – Gissur Páll Gissurarson (T & M: Jóhann Helgason)
Þangað til ég dey (Until I Die) – F.U.N.K. (T & M: Franz Ploder Ottósson / Pétur Finnbogason / Lárus Örn Arnarsson)
Surprisingly, there are no big names familiar to fans among next year's contenders. Looking through the names of the composers and lyricists however, there are some names that should create something of a buzz. The dynamite team of María Björk Sverrisdóttir and Marcus Frenell are back to try their luck again – they were behind Jóhanna's entry from 2011, Nótt as well as Regina Ósk's 2012 entry Hjartað Brennur. Both Vignir Snær Vigfússon and Þórunn Erna Clausen should be familiar to some. Þórunn Erna was one of the writers behind Magni's 2012 entry Hugarró, and she also wrote the text to the 2011 Icelandic entry Coming Home, performed by Sjonni's Friends. Vignir Snær is no stranger to Eurovision either, having penned the 2005 entry for Selma, If I Had Your Love.
Iceland managed to qualify for the sixth consecutive time this year with the emotive ballad Ég á Líf performed by Eyþór Ingi Gunnlaugson, coming in 17th place in the final. 
You might also like to read: