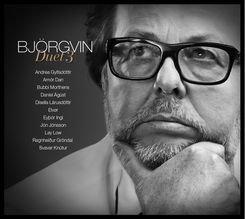 Even prior to his entry Núna for Iceland at the 1995 Eurovision Song Contest in Dublin, Björgvin (Bo) Halldórsson was already an established name on the domestic music scene, having had a career from the late sixties. He still enjoys enormous popularity to this day, and his latest project, the album Duet 3, is garnering rave reviews.
During the course of his career, Björgvin Halldórsson has released over twenty studio albums, with his first album, Þó líði ár og öld appearing in 1969. Despite a mediocre placing with his pensive ballad Núna for Iceland at the 1995 Eurovision Song Contest (15th), his popularity has shown no signs of waning and his career has gone from strength to strength.
Björgvin's newest release Duet 3, a compilation of duets with other Icelandic artists is the third in a series. His first album of duets was released in 2003 and was a great success; the second album in the series, released seven years later in 2010 also sold considerably well. The third album in the series, his latest offering, has been released to much acclaim. Eurovision fans are in for a treat, as on thecompilation, Björgvin has collaborated with artists whose names may ring some bells for fans of the contest.
Svavar Knútur Kristinsson, who made it to this year's national final along with Hreindís Ylva Garðarsdóttir Hólm with the jolly little number Lífið Snýst has recorded a track together with Björgvin, entitled Lífið allt er sjónarspil. Faroese songstress Eivør Pálsdóttir features on two tracks on the album; Ég veit and the same track appears at the end of the album, only sung in Faroese. Her Eurovision connection is that she recorded a version of the 1996 Swedish entry Den Vilda, entitled Dansaðu vindur (Dance, Wind) which charted in Iceland. This year's Icelandic entrant, Eyþór Ingi Gunnlaugsson, who brought Iceland to the final with his power ballad Ég á Líf teams up with Björgvin on the track Ungir Enn.
Does anyone remember the moody Icelandic entry from 1989, Það sem enginn sér, sung by young Daníel Ágúst Haraldsson? Well, as an artists he has evolved considerably, featuring in the line up of bands such as GusGus, Nýdönsk and Esja. On Duet 3 he performs the song Þá kemur þú. Ragga Gröndal is another strong name to feature on the album; not only was she voted Icelandic singer of the year in 2006, she also tried her hand in the national final in 2008 with Don't Wake Me Up.
The full track listing of the album is as follows:
1 Lífið allt er sjónarspil (Life is just a spectacle) – Svavar Knútur
2 Ég veit (I Know) – Eivør Pálsdóttir
3 Kæri vinur (Dear Friend) – Jón Jónsson
4 Ungir enn (Still Young) – Eyþór Ingi
5 Það er gott að elska (It's Good To Love) – Bubbi Morthens
6 Ást er æði (Love is Great) – Ragga Gröndal
7 Þá kemur þú (Then You Come Along) – Daníel Ágúst
8 Ástin skín (Love Shines) – Arnór Dan
9 Taktu númer og bíddu við (Take a number and wait) – Lay Low
10 Are You Lonesome Tonight – Andrea Gylfadóttir
11 Fósturjörð (Fatherland) – Dísella
12 Ég veit (Faroese version) – Eivør Pálsdóttir
Below, a clip advertising the album and featuring excerpts from all the tracks can be seen.
You might also like to read: