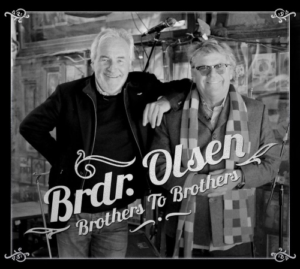 As previously mentioned here on EuroVisionary then the next album from the Olsen Brothers would hit the stores just in time for the coming Christmas sale. Today, the album which serves as a tribute to other brothers' were released. The album also contains one of their Melodi Grand Prix entries.
Brothers To Brothers have been recorded in Nashville, USA and the Olsen Brothers have spoken out telling how much of a joy this has been to them. The Olsen Brothers have before released cover albums, but this one is different as all the songs on the album was made by brothers, just like themselves.
Jørgen Olsen and Nils "Noller" Olsen won the Eurovision Song Contest for Denmark in the year 2000 with the song Fly On The Wings Of Love. This new album is their 24th release since their debut album in 1972. They have participated a total of six times in the Danish final, Dansk Melodi Grand Prix with one victory. Aside from those Jørgen has taken part solo three times, the last one being Vi Elsker Bare Danske Piger (We just love Danish girls) from 2007.
As this album serves as a tribute to brothers' the Olsen Brothers' also pay a little tribute to themselves as one of their Melodi Grand Prix entries is included as this album. That is track number 12 Little Yellow Radio, which is from 2006.
Track list for Olsen Brothers – Brothers to Brothers:
1. Proud Mary
2. Heartbreaker
3. Have You Ever Seen The…
4. Ramona
5. Wake Up Little Susie
6. Let Your Love Flow
7. When You Walk In The…
8. Help Me Rhonda
9. Massachusetts
10. Victoria
11. Bad Moon Rising
12. Little Yellow Radio
Included with the album is a DVD containing a concert from Aalborg in September this year and clips from their studio work. The album can be purchased via the links below. The album is released in the Scandinavian countries plus Germany, Switzerland and Austria.
You might also like to read: