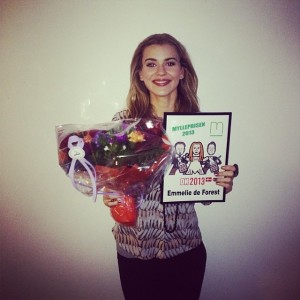 Last night Emmelie de Forest was awarded with the newly founded Mylle award, a prize named after Denmark's legendary commentator and national final host. Emmelie received the award at the first annual OGAE Denmark convention after her Eurovision victory.
Things have changed a lot in the Danish OGAE fanclub since Emmelie de Forest won this year's Eurovision Song Contest with the song Only Teardrops. The number of members have exploded to now being above 800, something which makes it the third largest OGAE club.
Yesterday they held their annual OGAE convention. It was placed in Copenhagen and a lot of the Danish Eurovision fans showed up to spent their day in the company of Soluna Samay, who represented Denmark at the 2012 Eurovision Song Contest with the song Should've Known Better, Mohamed Ali, who came second in this year's Danish final, Dansk Melodi Grand Prix, Tomas Thordarson who failed to reach the final at the 2004 Eurovision Song Contest singing Shame On You, Jørgen de Mylius, Denmark's commentator through a total of 24 years and host on the Danish final 11 times and of course Emmelie de Forst.
For the first time the newly founded Mylle award were to be given out. It is named after Jørgen de Mylius, whose nickname is "Mylle". The award is to be given each year to someone who has done something special for Dansk Melodi Grand Prix and the Eurovision Song Contest in Denmark. With the big increase in the number of members in OGAE Denmark since Emmelie de Forest' Eurovision victory in May, she is such a person.
This year Jørgen de Mylius showed up himself to hand over the award to de Forest. Emmelie afterwards wrote the following thank ytou message on Facebook: "I really want to say thank you to the Danish Melodi Grand Prix fanclub. For always supporting me up and for giving me this award today, presented by Mr. Melodi Grand Prix, Jørgen de Mylius".
You might also want to read: