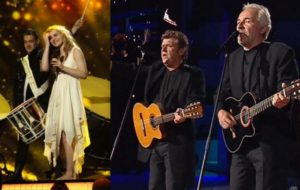 When DR's annually Christmas show takes place in December it will be with a hint of Eurovision as the last two former Danish winners, Emmelie de Forest and the Olsen Brothers, will perform. The show consists of three concerts, of which one will be shown on TV. 
For years the annually DR's Store Juleshow (DR's big Christmas show) has featured Danish as well as internationally well known names, and this year is no exception. The line up isn't yet complete, but today it was announced that Emmelie de Forest and the Olsen Brothers both are in it.
Emmelie de Forest won this year's Eurovision Song Contest held in Sweden – and in 2000 the Olsen Brothers also secured Denmark a victory with the contest being held in Sweden. They gave Denmark its last two Eurovision victories, but aside from that there isn't much comparision between Olsen Brothers and Emmelie de Forest. Olsen Brothers, or Brødrene Olsen as they are called in Denmark, was a well established name with a nearly 30 year old career behind them when they, as quite a surprise to most, won the international contest with the song Fly On The Wings Of Love. For Emmelie the situation was quite the opposite. She was a 20 year old newcomer, who however was the big favourite already since she won the national final with Only Teardrops. She had all the pressure on her, where not many had predicted an Olsen Brother win in 2000.
Recently Olsen Brothers and Emmelie de Forest both appeared at the press conference announcing Odense to host the 2014 Dansk Melodi Grand Prix, where it will be decided who will represent Denmark on homefield at next year's Eurovision Song Contest, so it won't be the first time the two winners meet.
Among the list of performers at DR's Christmas show are also Rasmus Seebach, the son of Tommy Seebach, who represented Denmark a total of three times at the Eurovision Song Contest. Rasmus has gone in his fathers footstep and is currently Denmark's hottest and best selling artist.
The three show concerts takes place at DR's Koncerthuset the 13th and the 14th of December, with two performances on the Saturday. It will be hosted by Sofie Lassen-Kahlke, who co-hosted this year's Danish final and Jacob Riising. The latter has hosted the Danish junior show, MGP, a total of four times. In 2012 together with Sofie so it won't be the first time either that those two shares the stage. In the week up to Christmas it will be broadcasted on DR. 
You might also want to read: