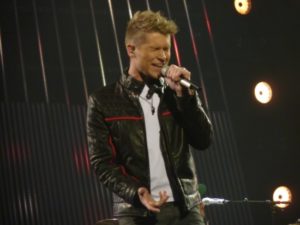 Recently the Danish TV channel TV2 could celebrate its 25th years anniversary. A big birthday show was kicked off by a song written by a four times Dansk Melodi Grand Prix songwriter and performed by one who we also know from the Danish national final.
Kenneth Potempa had all the spotlight on him when he opened the big anniversay show on TV2 with the song Ind I hjertet. The song is written by Peter Bjørnskov. Both of them are familiar names, although mainly from the competive TV channel, Danish Eurovision broadcaster, DR and the Danish national final Dansk Melodi Grand Prix. 
Kenneth Potempa who performed Ind I Hjertet in TV2's anniversay show took part in the Danish final last year with the song Reach For The Sky. It didn't manage to be among the three songs that went for a second and final voting in the so-called super final, which in the end was won by Soluna Samay and Should've Known Better. 
Both the anniversary song as well as Kenneth's national final entry were written by Peter Bjørnskov, who has taken part in Dansk Melodi Grand Prix as a songwriter the past four year's in a row: In 2010 with the song Breathing performed by Bryan Rice, which finished second, in 2011 with the song Sleepless sung by Anne Noa, in 2012 it was Reach For The Sky performed by Kenneth Potempa and this year, in 2013 Mohamad Ali came in third with Peter's song Unbreakable. 
Below you can see the performance of Ind I Hjertet in TV2's anniversary show. The song starts at 1.15 and at around 1.50 you can see Kenneth in the studio performing it.
You might also want to read: