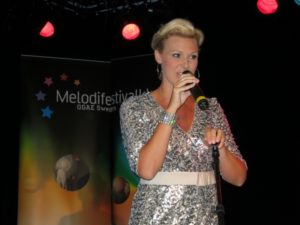 Melodifestivalklubben arranged it's popular yearly convention at the Concert and congress hall in Linköping on Saturday the 5th of October. The highlight for many was to see and meet two well known performers – Estonian Maarja and Swedish Sanna Nielsen. Videos of the performances can be found in this article.
Over 120 members of Melodifestivalklubben (OGAE Sweden) met up in the town of Linköping, about 200 km south of Stockholm, a town that hosted a heat of Melodifestivalen three times before and also stands as host for a heat in 2014.
The day started out with the annual meeting where electing a new board was among the things on the agenda. Cake and coffee followed after the meeting and there was also a quiz held where the members gathered in teams of four people to answer on Eurovision- and Melodifestivalen related questions.
In the evening it was time for the second half of the convention and after the dinner buffet it was time for the performances of the artists whose names had been kept secret. First out on the stage was was Ellinor Franzén who performed her two MF-entries Finns här hos dig from 1996 and Om du stannar här from 2001.
A big cheer was given to the performer who followed next – Maarja (Maarja-Liis Ilus) who sang her two Eurovision entries Kaelakee Hääl (together with swedish fan Daniel Gerstig as stand in for Maarjas Eurovision partner Ivo Linna) from 1996 and Keelatud Maa from 1997. She also gave the crowd performances of her song from Melodifestivalen 2003 He is Always On My Mind and the song First in Line.
The last performer got an even bigger response from the crowd as fan-favourite and MF-veteran Sanna Nielsen takes the stage. Obviously touched by the reception from her ecstatic crowd she delivers her hits from Melodifestivalen through the years – Vågar du vågar jag from 2007, Hela världen för mig from 2003, her 2nd placed entry Empty Room from 2008 and I'm in Love from 2011.
Once the performances were over the fans got to meet the performers and after that DJ Ronny Larsson played MF- and Eurovision hits to making the people wanting to dance away all night long.
You might also want to read: