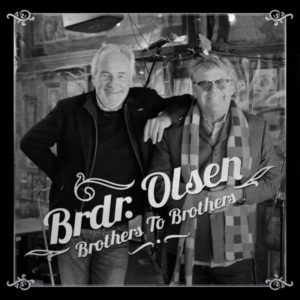 The upcoming album from Eurovision Song Contest winning Olsen Brothers gets an international release. It has been announced that the album, that hits the stores at the end of November, will be released not only in Scandinavia, but also in Germany, Switzerland and Austria.
It is 13 years ago the Olsen Brothers surprised many by pulling home the Eurovision trophy to Denmark. Back then they were a well established duo with 30 years of experience, 10 albums and six previous national final participations behind them. Since that they have participated another two times, released another 10 albums  – and one more is on the way.
The upcoming album is titled Brothers To Brothers and will contain 16 songs, all cover versions of songs that has meant something to the two Brothers, Jørgen Olsen and Nils "Noller" Olsen, in their life and music career. The Olsen Brothers announced recently that the album also will see a release in Germany, Switzerland and Austria on the 25th of November. It is not the first time the Olsen Brothers, who goes under the name Brødrene Olsen in Denmark, will see their album released in the German speaking countries. They had already before the Eurovision Song Contest in 2000 had some success in Germany, something that blushed up so much after the victory that an entire album was translated into German, recorded and released. Smuk Som Et Stjerneskud that in English was made into Fly On The Wings Of Love became Weil Nur Die Liebe Zählt and was released in 2003.
In their webshop the Brothers are currently accepting preorders on the album, which can be bought as an album with DVD or in a special fan package including a t-shirt. All preorders coming in before the 4th of November will be signed by the brothers.
Links