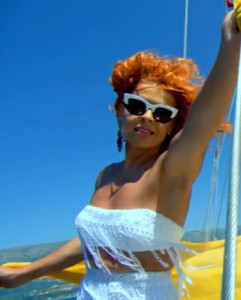 Aurela Gaçe represented Albania at the 2011 Eurovision Song Contest with the song, Kënga ime.  Now she returns for summer 2013 with a new song and video, Dua (Love).  The song is an ethnic and upbeat song with a happy summer vibe.
Aurela Gaçe is one of the most popular and established performers in Albania and has won many awards.  She won the Best Song From Albania at the Balkan Music Awards in 2011 for the song, Origjinale.  She also won the Best Performer prize at the popular music contest, Kënga Magjike, in 2007.  Also, in the years prior to Albania taking part in the Eurovision Song Contest she won the Festivali i Këngës in 2001 with Jetoj.  
In 2010 she won the Festivali i Këngës again and went on to represent Albania at the 2011 Eurovision Song Contest with Kënga ime.  Aurela finished 14th in the first semi final and did not make it to the final but she won a lot of plaudits with her performance.
Now Aurela returns with a new song for 2013, Dua.  The video is very colourful and exotic and has very summery feel and was recorded on the beautiful Albanian coast.  The song is composed and orchestrated by Adrian Hila with lyrics by Adrian and Aurela.  The styling in the video is by Joni Peci and the video is by Max Production.
You can read more about Aurela in English and Albanian languages at her official website. 
You can see the official video for Dua below.
You may also like to read –