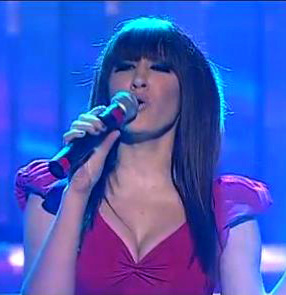 Semi Jaupaj took part in the Festivali i Këngës in Albania in 2010 and 2011. She has now returned with her band Grifshat ne Rapsodi with the song Peshk Breshk at the Top Fest 10 competition.
Semi Jaupaj has participated in many festivals in Albania as a solo performer, in a duet and also with the band Grifshat. In the 2010 Festivali i Këngës she sang Dritë with Albi Xhepa and in 2011 with Bojken Lako & Breza and performed Të zakonshëm.
Semi took part in the 2012 Kënga Magjike with the band, Grifshat, and the song E Kthjellet.  She also went all the way to second place in the popular entertainment series, Star Akademi.
Now Semi is back with Grifshat ne Rapsodi at the 2013 Top Fest 10 festival with Preshk Breshk.  The song is composed by Bojken Lako.  The song is in a rock style and is gaining a lot of popularity and radio play in Albania and You Tube hits around the world.
You can see Grifshat ne Rapsodi perform Preshk Breshk below.

You may also like to read: