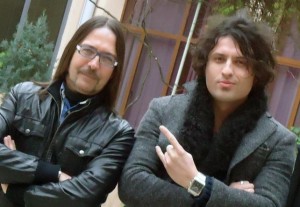 The duo, Adrian Lulgjuraj and Bledar Sejko are both well known musicians in Albania at the rock music scene which they will bring to Malmö this year. Their song is titled Identitet (Identity) for the forthcoming Eurovision Song Contest, but they have already found their identities on the edge of rock music despite they will sing about finding self-identity.
Adrian Lulgjuraj is a 32 years old lawyer, but also a succesful musician. He admits he's feeling like a mutant Titan (like in the movie, Hulk) when on stage. He's now at his 6th year in music but his first musical release came out in 2011 with the song Te Mori Nje Det. The song also participated in Top Fest 8, but the winning award has come a year later at Top Fest 9 with the second release, Evoloj.
In addition to the Top Fest events and single releases Adrian gave various contests in Balkans, including Montenegro, Kosovo, Albania and Macedonia. Last year, he was also a coach assistant in an idol contest called The Voice of Albania.
Bledar Sejko who is 42 years old, is more experienced than Adrian – not only because of his age – he started to sing when he was just 12. Fortunately, Bledar had a great father who discovered his talent on playing guitar, he was also very supportive with encouraging his son to take special music lessons.
Bledar's luck shined like a star in 1987 when he participated in an international musical event and he was awarded with runner up in the Festivali i Këngës with the song Qeshu Rini. In addition to this success, he also participated in 1992, 1993, 2005 and 2007 festivals but he broke the duck at last this year at the historical competition.
Bledar decided to found a rock band, Megahertz in 1990 and continued with them till 1997 when he had to leave his country for Italy where he lived for seven years. In 2011, he was the backing singer of Aurela Gaçe at the Eurovision Song Contest, where they failed to qualify to the final in the first semi-final. This year, Bledar will be pushing it to qualify to the final with his partner, Adrian.
Participant Profile
In the semi final