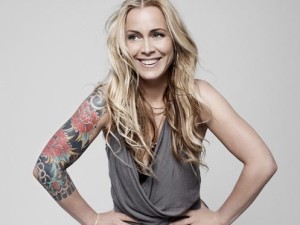 Anouk, born Anouk Teeuwe on the 8th of April, 1975 in the Hague, is perhaps The Netherlands most foremost female artist. She found herself drawn to  music from a very early age, influenced by her mother who was a blues singer. Her interest increased as she was booked to perform at more and more events, parties and weddings with her band Shotgun Wedding, but theirs was a short lived marriage and so she began as a student at the Rotterdam school of music. It was while studying here that things began to happen in her career. She was discovered by Barry Hay, frontman of the popular Dutch combo Golden Earring when she joined him onstage at a music festival in 1995, and he wrote a number of songs for her, including her first release, Mood Indigo.
It was when she met her co-writer Bart Van Veen, that a musical chain reaction was set off. Success and recognition came with the release of her second single, the searing song about independence, Nobody's Wife, which burst onto the scene, setting the charts around Europe alight. The single was a smash hit in Scandinavia and Finland, as well as the Benelux countries, propelling her to stardom. Her debut album, Together Alone, was released later that same year, replicating the success of Nobody's Wife, selling a staggering four times platinum in the Netherlands alone. Although becoming something of a "one hit wonder" abroad, her career blossomed back home, where fans embraced the individualistic performer wholeheartedly.
Never one for compromise, Anouk has always done things her way, and it is exactly by staying true to herself that she has enjoyed such a long and successful career. Since her debut in 1997 until the present, she has released seven studio albums: Together Alone (#1, 1997), Urban Solitude (#1, 1999), Graduated Fool (#3, 2002), Hotel New York (#1, 2004), Who's Your Momma? (#1, 2007), For Bitter Or Worse (#1, 2009) and To Get Her Together (#1, 2011). The release of Sad Singalong Songs in May will be her eight studio offering and will no doubt maintain the performance trend set by its predecessors.
Her singles back catalogue is equally as impressive, with twenty nine hits under her belt. Twenty six of these have cracked the Dutch Top 40, thirteen have made the top 10. She has eleven top 5 singles to her name, and one number one, Three Days In A Row, from 2009. Her single Lost from 2005 went on to become a smash hit in Scandinavia, peaking at number two and three in Norway and Denmark respectively.
During the course of her career, she has built up a solid fanbase and has won countless awards for her work, including two MTV music awards for best Dutch/Belgian act in 2005 and 2006. And so Anouk turns her attention and more importantly, her seemingly limitless energy, to her next important task : bringing the Netherlands once again back into the final of the Eurovision Song Contest.
Participant Profile
In the semi final