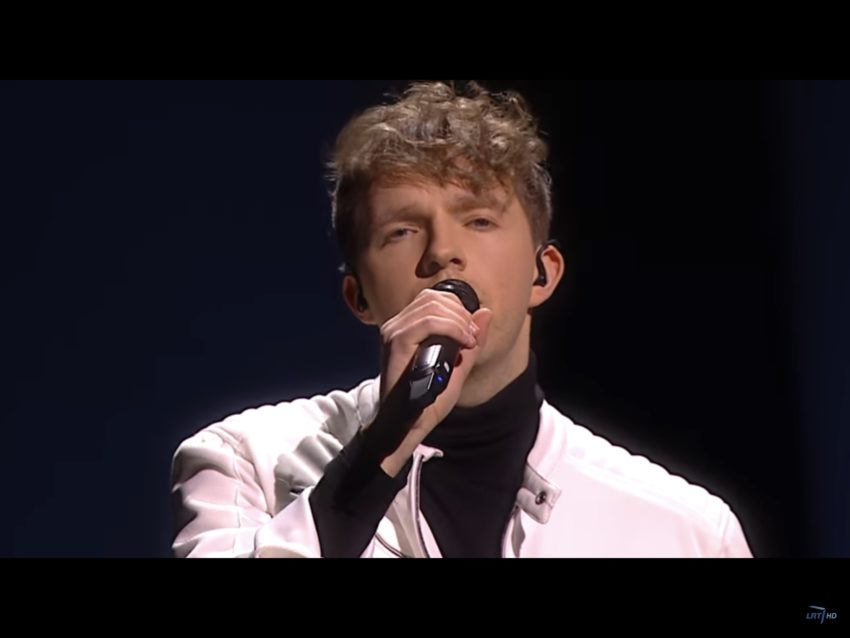 This year in the Lithuanian National final heats, one song scored top marks from the jury and public. That song was 'Where'd You Wanna Go' by Gebrasy.
The problem was that waiting for him, in the finals, was The Roop, who having won the right to represent Lithuania the 2020 contest with On Fire, were now waiting to perform their song for this year, Discoteque.
Sure enough, The Roop, managed to score the top marks at the final, leaving Gebrasy in the runner up position.
However, let's not take away that had The Roop not been in the finals, Gebrasy would have been the Lithuanian Eurovision entrant this year. Let's hope he will try again in the future.
Where'd You Wanna Go – opinions from fans
In order to find out what Eurovision fans think of this National Final Lithuanian entry from 2021, we asked our Eurovision Fan Panel. It includes team members as well as fans from all over the world.
Michael O. – Audrius/Gebrasy has been hanging around these Lithuanian finals for a few years, and has been eliminated a little early. This year's song though is simply in a league of its own of all his entries, and would have been a great entry for Lithuania. Let's hope he can find something of this quality in future years.
Amir B. When I think of Lithuania and Eurovision, I think of animated music. This country has good entries with animated songs, but if Gebrassy would have won, I wouldn't have been surprised. Is a good song, a lovely ballad. His outfit reminds me a lot of the Donny Montell's show in 2016 with a totally different song.
Milosav T. – Sorry, this song just doesn't do it for me. The singer is talented and the song is well-written, but it fails to grab to my attention or provoke any major emotions. The Roop was definitely the better choice.
Charlotte J. –  I am not a fan of The Roops 2021 entry, so I was looking forward to this one; to hear an alternative to Discoteque. Unfortunately, Gebrasy didn't convince me, or rather the song didn't. It's too boring for me, and with this, Lithuanian wouldn't have had a chance to reach the final, I believe. Gebrasy sings well – and the similarity to Donny Montell is striking – but the song, no…
Aaron S. – I liked Where'd You Wanna Go. I think it is a sweet song with nice vocals. I did prefer this song to The Roop's Entry,, I feel this song is more radio-friendly and would have got a good result at Eurovision, I hope Gebrasy competes to represent Lithuania in the future as he is a good artist.
Alvaro S. – This is a good song although I do not think it had enough to beat the Roop after they had built their audience. It has emotions although I started to get bored by the end of the song.
Craig M. – I really do like this song by Gebrasy. It's a very beautiful piece of music, and would have been a strong entry for Lithuania. The Roop – Discoteque is my favourite of the 2 songs by far, but with Gebrasy, I think Lithuania would have still made the grand final. Some countries could only dream of having 2 great songs to choose from.
Below, you can watch Gebrasy's performance at this year's Lithuanian finals, and read a little about Gebrasy, after you've enjoyed the video.
Gebrasy – a brief biography
Gebrasy was born Audrius Petrauskas, on 16 October in Kaunas, Lithuania. In 2015, he enrolled in Vytautus Magnus Universityto study English Philology, having appeared in the second season on X Factorius in Lithuania, and placing third, behind Andžela Adamovič, and winner, Žygimantas Gečas.
In 2017 he made his debut in Eurovizijos" dainų konkurso nacionalinė atranka, hoping to represent Lithuania at Eurovision with the song Shine Like Gold. The song was co-written, by Scottish chart topper, David Sneddon, who also co-wrote Greece's 2019 Eurovision entry. For some reason, the public weren't too keen on the song, and Audrius was eliminated in the first round.
The next year he proceeded to the quarter-finals with In My Bones. In 2019, now performing under the name, Gebrasy, unfortunately he was eliminated in the first heat with Acceptance. This year he co-wrote, three of the songs in the Lithuanian heats, including the self sung runner up Where'd You Wanna Go.