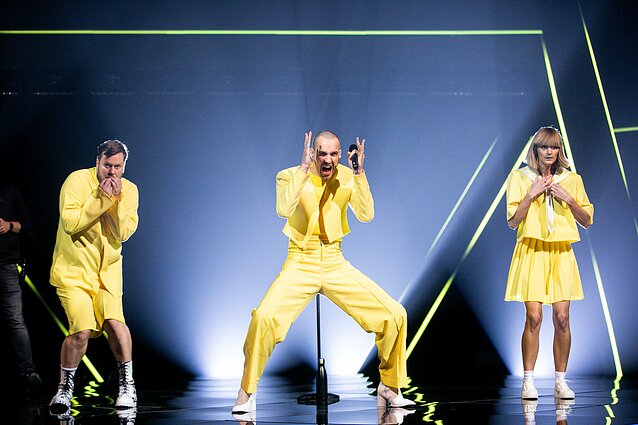 Tonight, to the surprise of probably no-one, The Roop won the Pabandom iš Naujo! 2021 and will represent Lithuania at the Eurovision Song Contest 2021.
This year's Lithuanian selection was trimmed down to two heats, where 20 acts competed to perform in tonight's final. Five acts made it, but none were able to beat the Roop who, due to last year's Eurovision being cancelled, were given a pass to the Lithuanian final.
They will perform Discoteque in the first half of the first semi final on May 18 2021.
Let's not forget the other five competitors who did well tonight, with a special commendation to Gebrasy who also was a particular favourite in Lithuania this year, with his song Where'd You Wanna Go.
The Show and Judges
The final  was hosted by Ieva Stasiulevičiūtė, all in red and Vytautas Rumšas Jr, with Vaidas Baumila, again in charge of the Green Room.  As the show has to last two hours Vytsutas did a good lot of time wasting by doing impressions of accents round the world.
Vaidas had to chat to the judges via Zoom and get their opinions of the songs. We could have done without that.
Tonight the judges included LRT pop chief editor Ramunas Zilnys , singer Aistė Smilgevičiūtė , musicologist events Head Geruta Griniūtė , singer, composer Stanislav Stavickis-Stano and composer, arranger,  Jievaras Jasinskis
Sisters On Wire performed during the voting interval.
The Songs
Titas & Benas – No
Nearly fifteen minutes into the show, and we start with the cousins, Titas and Benas. Had this been Eurovision, there's no way they'd open with this kinda sad and slow number. On its own though this is a powerful enough song and the lads are doing enough to get the girls to vote for them. The chorus is the most powerful part of the song, and when they both sing together the harmonies are perfect.
Martyna Jezepčikaitė – Thank You Very Much
This song has been a favourite of the Lithuanian public, though not so much on the judges.  A wise change to the title has given the song more appeal. This is an angry little number that Martyna delivers with enough attitude. However the song kind of stops and starts. Very like Chameleon from Malta 2019. Good singing.
Gebrasy Where'd You Wanna Go?
With no Roop breathing down his neck, Gebrasy has managed to win the jury and public votes, for the past two weeks. This song could belong in any decade, it has that timeless sound. There aren't a lot of instruments in the song, which keeps it low key, but with an appealing feel all the way thorough. If Gebrasy doesn't win tonight, let's hope he doesn't kick himself for a year, regretting he could have kept this until 2022.
Voldemars Petersons – Never Fall for You Again
Voldemars has been practising his pronunciation this week, and got the word, 'thousand' perfect tonight. This is a very catchy sing a long song that would  do well in a big Eurovision hall, if all the audience was present. This is also the song of the night that makes good use of the LRT backing singers. There's a feel of The Roop to this song too. You can sing and dance to it, but can you win Lithuania's contest tonight with it?
Evita Cololo – Be paslapčių
Evita's song is a sultry moody little thing, which let's be honest is forgotten as soon as it's over. This will explain the low marks it receives from the public, while the jury lap it up. Evita is the best part of the song, with her appealing singing voice. Going out on a limb, expect this to come sixth tonight, unless the jury really decide to mess everything up. And that's about it then.. oh wait, one more song..
The Roop – Discoteque
The lemon Roop return from last year, to see if they can clean up again. Like On Fire, this is a quirky little number, which is irresistible from the get go. A new dance for you tubers to learn, and polished till it shines. What could go wrong?
The Results
The winner was chosen based on 50% jury and 50% Lithuanian public. The Roop received 74512 votes from the public, nearly 68000 more than second place, Gebrasy.
| | | | | |
| --- | --- | --- | --- | --- |
| | Jury | Public | Total | Position |
| Titas And Benas | 6 | 6 | 12 | 6 |
| Martyna | 5 | 8 | 13 | 4 |
| Gebrasy | 10 | 10 | 20 | 2 |
| Voldemars | 8 | 7 | 15 | 3 |
| Evita Cololo | 7 | 5 | 12 | 5 |
| The Roop | 12 | 12 | 24 | 1 |
Lithuania At The Eurovision Song Contest
Lithuania debuted in the Eurovision Song Contexr in 1994 and sadly received zero points for Ovidijus Vyšniauskas with Lopšinė mylimai. This was the only time that the entry was sung entirely in Lithuanian.
Two of Lithuania's best five showings have come from Donny Montell, who placed 14th in 2011 with Love Is Blind, and 9th in 2016 with Ive Been Waiting For This Night. This is Lithuania's second best showing to date.
In 4th and 3rd place is Skamp from 2001, who placed 13th with You've Got Style, and Ieva Zasimauskaitė who came 12th in 2018 with When We're Old.
Top placing goes to LT United who came 6th in 2006 with We Are The Winners.
Below is Lithuania's 2021 entry, Discoteque.