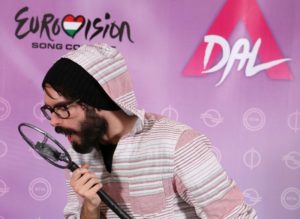 30 candidates have been selected for the 2014 edition of A Dal, the contest to find the act to represent Hungary at the 2014 Eurovision Song Contest in Copenhagen. The news has been announced by the local broadcaster, MTVA.
The 30 acts and songs to participate in A Dal were selected by an expert jury. Here is the complete list –
András Kállay Saunders – Running
Bálint Gájer – Elmaradt pillanatok
Belmondo – Miért ne higgyem
Bogi – We All
Dénes Pál – Brave New World
Depresszió – Csak a zene
Extensive – Help Me
Fool Moon – It Can't Be Over
Gabi Knoll – Sweet Memories
Gigi Radics – Catch Me
Group n Swing – Retikül
Heni Dér – Ég veled (Next Please)
Hien – The Way I Do
HoneyBeast – A legnagyobb hős
Ibolya Oláh – Egy percig sztár
Joni – Waterfall
Laura Cserpes – Úgy szállj
Leslie Szabó – Hogy segíthetnék
Lil C – Break Up
Lilla Polyák – Karcolás
Linda Király – Everything
Music Fabrik – This Is My Life
Mystery Gang – Játssz még jazzgitár
New Level Empire – The Last One
Noémi Takács – Minden mosoly
Saci Szécsi & Böbe Szécsi – Born To Fly
Tamás Vastag – Miss One Smile
To Beat or Not to Beat – Camon Babe (Meg akarom mondani)
Viktor Király – Running Out Of Time
Marge – Morning Light
The A Dal competition will begin on 25 January with the first of three quarter finals. The winners will then qualify to the semi-finals and subsequently to the final on a date to be confirmed. More than 400 songs were submitted this year.
Amongst the acts taking part are Magdi Rúzsa, who represented Hungary in the 2007 Eurovision Song Contest with Unsubstantial Blues, Laura Cserpes, who performed in the 2013 A Dal final with  Élj pont úgy and Gigi Radics, who sang Úgy fáj.
Hungary finished 10th at the 2013 Eurovision Song Contest with Kedvesem from ByeAlex. Who will be the next Hungarian participant at Eurovision?
You can see Magdi perform Unsubstantial Blues, Laura perform  Élj pont úgy and Gigi perform Úgy fáj below.
You may also like to read –